Zelensky emphasizes that once Ukraine has been granted candidate status, it will no longer be a "border between orcs and elves".
Ukrainian President Volodymyr Zelenskyy stressed on Friday that Ukraine will no longer be "a border between orcs and elves" after the Twenty-Seven granted the country candidate status for joining the European Union.
"Now it is recognized: Ukraine is not a bridge, not a buffer zone between Europe and Asia, not a sphere of influence, not a gray or transit zone. Nor is it a boundary between orcs and elves," he claimed.
Thus, he clarified that Ukraine "will be a future partner for the Twenty-Seven, like any other of the countries that form the common bloc" and expressed that the candidate status is a "new volume in the history of European integration". is ".
"This status is not just a new step, it is a new peak. It is not a new paragraph, not a new page. It's a whole new volume and we're starting to write it now," he assured, before clarifying that Ukraine "will become a member of the EU in the future," according to Ukrinform news agency.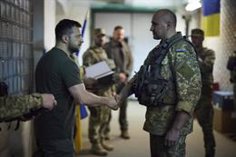 Zelenski is committed to reforming the Ukrainian military system and introducing conscription like Israel's
He also stressed that the changes taking place in Ukraine would be introduced "for us" and "not for others". "We do not implement reforms because someone is demanding them, but because we believe in them. Ukraine aspires not only to become part of the European family, but to return to it," he said.
Zelenskyy took the opportunity to recall that in 2014 the Ukrainian people defended their European future.