Zarif is reluctant to give up the nuclear agreement but regrets that Europe "submits" to US designs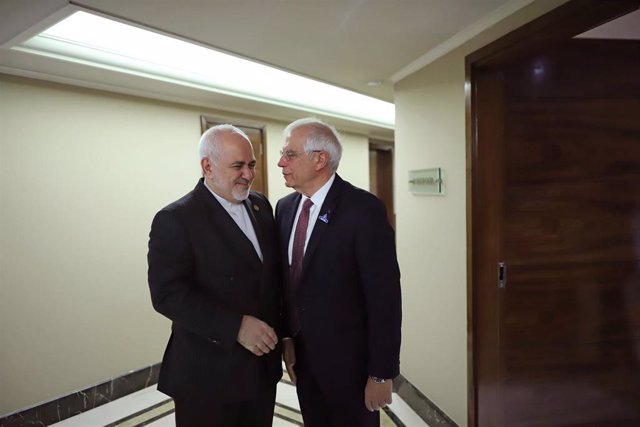 Mohamad Yavad Zarif and Josep Borrell – Mukherjee Anindito / European Comm / DPA
MADRID, 25 Jan. –
Iran's Foreign Minister, Mohamed Yavad Zarif, has said that the nuclear agreement signed in 2015 with the international community is still in force despite the latest distancing from his country, unnerved by what he considers a lack of cooperation from European signatories after the unilateral withdrawal from the United States and the reimposition of sanctions.
"Unfortunately, Europeans do not see Iran as a partner," Zarif lamented in statements to 'Der Spiegel', in which he recalled the signatories' commitment to return the country to international markets in exchange for the partial suspension of their nuclear program
"But the Europeans did nothing. They have not fulfilled their obligations. They have to get off their horse," he lamented. Not even the INSTEX trading instrument, designed to trade with Iran, has registered any movement, according to the diplomat. "It is basically an accounting company and more than a year and a half after the US withdrawal from the agreement, Europeans have failed to make a single transaction."
Zarif has assured that, despite the fact that the country has decided to enrich uranium again above the allowed limits, it still admits inspections on the development of its program. "The EU has not fulfilled parts of the agreement and Iran has not fulfilled parts, but that does not mean that it is dead," he said.
In response to the recent activation by Europe of the so-called Dispute Resolution Mechanism – a process of assessing the current status of the agreement to see if the signatories respond to their commitments -, Zarif has criticized that "Europeans have no reason legitimate "and has warned that this idea will face the opposition of Iran's international allies: Russia and China. "A great battle awaits Europeans," he warned.
Finally, and in general terms, Zarif considered that the current situation occurs due to the submission of Europe, in his view, to the United States. "The Europeans call us and say: we are sorry, we cannot do anything. The Europeans cannot give in to (the president of the United States, Donald) Trump and then try to act as a 'strong man' against Iran. It seems like a disaster." , it is finished.