Year-long pay squeeze comes to an end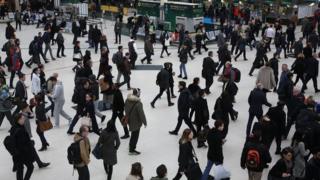 Wages rose at an annual rate of 2.9% in the three months to March, faster than inflation for the first time in more than a year, official figures show.
Over the same three-month period, the inflation rate was 2.7%.
Inflation started to overtake wages in February last year, squeezing incomes.
The Office for National Statistics (ONS) also said unemployment fell by 46,000 to 1.42 million, with the jobless rate falling to 4.2% the lowest since 1975.
The Chancellor, Philip Hammond said: "Growth in real wages means that people are starting to feel the benefit of more money in their pockets; another turning point as we build a stronger, fairer economy.
"The unemployment rate is at it's lowest in over 40 years and with our National Living Wage we are making sure that the lowest-paid feel the benefit with an extra £2,000 a year."
However, the general secretary of the TUC, Frances O'Grady said: "Working people are still not getting a fair deal. Millions of jobs do not pay a real living wage. And average weekly pay is still worth much less than a decade ago."
John Hawksworth, chief economist at PwC said: "The rise in wages will be helpful as it follows a long period when wages have been falling relative to inflation, but wages are still lower in real terms than they were before the financial crisis. and this won't turn round things overnight."
The number of people in work increased by 197,000 in the January-to-March period to 32.3 million. The ONS said that 75.6% of people aged from 16 to 64 years were now in work, the highest since records began in 1971.
Analysis: Kamal Ahmed, BBC economics editor
Alongside the strong employment figures, improved wage growth means there is certainly plenty of better news in the latest Office for National Statistics figures.
But – a few words of caution.
Weak incomes have been a problem for a decade.
It will need a long period of wages rising above the rate of inflation for people to feel significantly better off.
And, for the public sector, the 1% cap on wage rises is only just being released.
Many millions of people still have incomes below where they were a decade ago.
The financial crisis, poor economic performance and major changes in public sector financing have cast a very long shadow.
'Robust' labour market
Senior ONS statistician Matt Hughes said: "With employment up again in the three months to March, the rate has hit a new record, with unemployment remaining at its lowest rate since 1975.
"The growth in employment is still being driven by UK nationals, with a slight drop over the past year in the number of foreign workers. It's important to remember, though, that this isn't a measure of migration."
Mr Hawksworth said: "All of this good news stands in marked contrast to the subdued GDP growth of just 0.1% estimated for the first quarter.
"Overall, the continued robustness of the labour market may strengthen the hand of those arguing for interest rates to rise sooner rather than later.
"But the majority of the [Bank of England's Monetary Policy Committee] will probably want to wait for hard evidence of output bouncing back in the second quarter before they pull the trigger on interest rates."
Last week, the Bank of England kept interest rates on hold at 0.5%, saying the UK economy had hit a "temporary soft patch".
Separate data from the ONS said its initial estimates of productivity, a measure of output per hour, had fallen 0.5% in the three months to March, the largest fall since the last three months of 2015.
Howard Archer, chief economic adviser to the EY Item Club, said: "The relapse in productivity… is particularly disappointing as there needs to be sustained improvement to ease concerns over the UK's overall poor productivity record since the deep 2008-09 recession.
"Part of the UK's recent poor labour productivity performance has undoubtedly been that low wage growth has increased the attractiveness of employment for companies.
"It is also possible that some companies may have looked to take on labour rather than commit to investment, given the highly uncertain economic and political outlook."