Xi Jinping is optimistic about the advances to control the outbreak of the coronavirus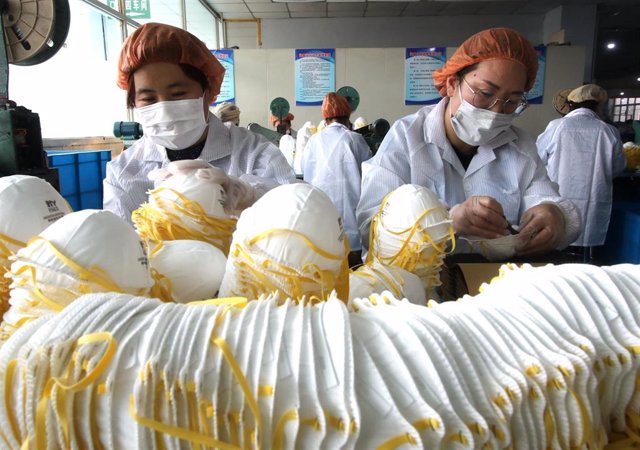 12 February 2020, China, Hebei: Workers in a mask factory. Photo: Hu Gaolei / SIPA Asia via ZUMA Wire / dpa – Hu Gaolei / SIPA Asia via ZUMA Wir / DPA
MADRID, 12 Feb. –
The president of China, Xi Jinping, has expressed his optimism on Wednesday about the "positive results" recently recorded in the fight against the outbreak of the new coronavirus, which has resulted in 1,113 deaths in the Asian giant and more than 45,100 infected worldwide.
Xi, who has held a meeting with the country's top senior officials to address the health crisis, has stressed the importance of "returning to work" to ensure economic stability and social harmony in much of the country.
The Chinese leader has emphasized the "positive changes" that have been introduced in the management of the outbreak of the coronavirus, whose epicenter is located in the city of Wuhan, but has stressed that efforts and measures put in place to control the expansion of the disease are in a critical phase in which "there is no place to relax."
Thus, he has asked the most affected areas and where there is a greater possibility that new cases arise that increase the number of beds in hospitals and expand the facilities for the quarantine of infected and possible infected, according to information from the newspaper 'South China Morning Post '.
In this regard, he has reiterated that the authorities at the local and national level should make every effort to achieve China's development goals for this year and has said that he hopes that the coronavirus crisis will not affect progress.
Xi has urged local authorities to avoid taking excessive measures to deal with the outbreak. "We must correct the exaggerations and extreme measures, such as the suspension of all business activity," he said.
Although China is the epicenter of the outbreak and the most affected country, the coronavirus has already spread to other countries in Southeast Asia and cases have also been detected in Europe and America. Outside of China, two people have died from the virus. The first in the Philippines and the other in Hong Kong.
Common signs of virus infection, whose official name is Covid-19, include respiratory symptoms, fever, cough and shortness of breath. In more severe cases, the infection can cause pneumonia, severe acute respiratory syndrome, kidney failure and even death.
In 2003, more than 600 people had died in China because of the outbreak of SARS or acute respiratory syndrome that was first detected in 2002, while the global figure reached 765 deaths.