WW2 bunker found under Middlesbrough back garden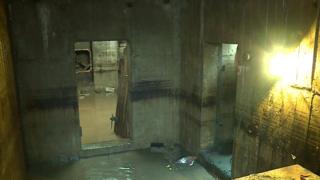 A hidden World War Two bunker has been discovered under the back garden of a house in Middlesbrough.
Chris Scott was having his Marton Avenue home renovated when he decided to investigate what he thought was a drain cover.
But it turned out to be the entrance to a concrete-lined, two-room bunker, big enough for more than 50 people.
The married father-of-one, 40, said he plans to turn the bunker into a wine cellar or an office.
"Our neighbours had mentioned something about a bunker, but to be honest we didn't think any more about it," Mr Scott said.
"When my builder suggested having a look at what was under the cover, we opened it up and saw a 10ft metal ladder leading down into the darkness.
"We initially used our mobile phones to look round and couldn't believe what we saw."
The bunker was partially filled with water, but after it was drained two rooms measuring about 4m x 4m were revealed, which were separated by a wooden door.
A homemade wooden table had also survived.
Mr Scott added: "We expected it to be quite small, but once we got through the metal blast door were were very surprised.
"There were still a lot of electrics in place and some snorkel-type devices which must have there to help people breathe."
It is thought the bunker was used to hold people during bombing raids.