Would you work for free to secure a job?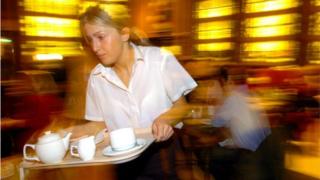 If you didn't have a job, how far would you go to get one? SNP MP Stewart McDonald thinks some employers are "exploiting" people by asking them to work shifts for free to prove they are up to the job.
What's the issue?
Concerns have been raised about unpaid trial shifts. This is where you are asked to do a job for a while so a potential employer can decide if you're any good.
Unions say it is a problem they are seeing more and more.
Mr McDonald wants to see them banned or for the workers to be paid.
Give me an example….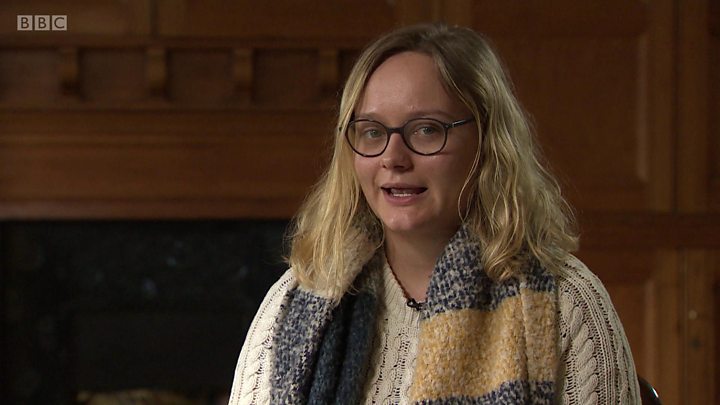 Zoe Leckie is a student in Glasgow.
She turned up smartly dressed for an interview in a restaurant but was told by the company they wanted her to do a shift as part of the selection process.
She went home, got changed and returned to find herself thrown in at the deep end.
"It was very much you're now theoretically a member of staff, this is what the staff do, you'll be doing exactly the same as them, we expect you to work to exactly the same standard," she recalls.
She was told: "Just act as if you've been doing it for ages."
That might sound OK for a first day, but Zoe hadn't had any training. And she wasn't being paid.
"They had me setting tables, cleaning tables, restocking food products, serving drinks," she says.
"I wasn't even offered a break or a drink of water or anything. It was full on for six hours."
No payment for the shift was discussed. She was eventually offered the job, but turned it down after being told she'd have to be available seven days a week.
"I think it was total exploitation," she says now. "If I was to go back to that moment in time, I would have just walked out."
Is this common?
There has not been a comprehensive study of how many people are doing work like this.
But the Unite union has been running a campaign on fair work and found many people contacting them with similar stories.
"We've seen a massive increase in the use of unpaid trial shifts, particularly in the hospitality and restaurant industry – from family restaurants to large multinational corporations," says Bryan Simpson from the union.
And he says cases are not just about people being tested before being offered a job.
"[They're] using unpaid trial shifts to cover absences within the workplace – if workers are sick they are bringing people in to do eight hour-long trial shifts with no intention of ever giving them a job."
What's the defence?
Willie Macleod, the British Hospitality Association's executive director for Scotland, said it was normal to ask someone to demonstrate their skillset as part of a recruitment or selection process.
He said: "For example a chef in a kitchen showing he can actually cook something or a cocktail barman showing he can actually make the cocktails he'll be selling."
But Mr Macleod said: "Unpaid trial shifts is a poor business practice.
"To work a full or half shift and not be paid for it is unacceptable."
The Edinburgh-based chef Mark Greenaway also says it is not about free labour, but checking someone's skills.
He told The Caterer last year that people might work unpaid in his restaurant for a few hours as part of the recruitment process, but he said he was against lengthier spells.
What would happen if there's a ban?
SNP MP Stewart McDonald, who represents Glasgow South, is publishing a bill he hopes to get through the Westminster parliament.
In short, that would mean people need to be offered at least the minimum wage if they are going to do the work a member of staff would normally carry out.
Mr McDonald says: "This doesn't end the ability of an employer to try people out. It just sets new rules and boundaries on how they do that."
Employers would have to make clear what jobs are available, to make sure they are not just using trial shifts to fill staff shortages.
And anyone doing a paid trial would be guaranteed feedback if they don't get the job.
What about things like work experience?
Mr McDonald says a "trial shift" is very different to work experience, which often involves shadowing an employee and is not usually a job application.
He said it became a "trial shift" when someone was performing all the tasks they would be required to fulfil if they were actually doing the job.
Mr Macleod said work experience was vital to expose potential recruits to the industry.
He said: "The hospitality industry is not necessarily for everybody. You have to be comfortable giving service, you have to be comfortable with people.
"Getting that experience is vital to the employee and beneficial to the employer but it is not to be exploited and not to be abused."
Mr McDonald said his private member's bill aimed to end the "cynical exploitation" of unpaid trial work, where people are working for long hours in the hope of getting a job.
What does the government say?
The UK government said a review by Matthew Taylor was published in July 2017.
It said Mr Taylor, a former aide to Tony Blair, had stated that the law was already sufficient in this area.
In its response to the Taylor review, the government committed to take action to ensure interns were paid at least minimum wage rates when doing the job of a worker.
A Department for Business spokesman said: "The law is already clear that it is illegal to employ people on unpaid trial work periods for an excessive period of time, or where there is no job at the end of it.
"If you are a worker you should be paid at least the minimum wage and this year the government will spend a record £25.3m on ensuring the UK's lowest paid workers get what they're owed."