Would you sleep in your favourite shop?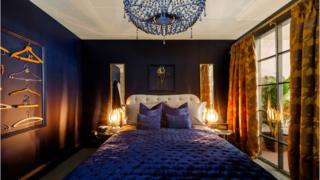 As more of us shop online, retailers are using quirky events and experiences to lure us back to the High Street. But will it work?
To many, the idea of spending a night in an empty shop will conjure visions of hell. After all, how would you entertain yourself, and wouldn't it be eerily quiet?
But UK department store John Lewis believes that a good number of us think the opposite, and has been offering the opportunity to customers at its Liverpool, Cambridge and London Oxford Street stores.
In each case, an applicant chosen at random gets to stay the night at "The Residence", a plush apartment based right in the middle of the shop.
They can bring friends, try out products and clothes, watch films, and go on a private shopping tour. They are also served dinner and breakfast by a concierge.
John Lewis hopes the Residence will create a buzz in its stores, at a time when growing numbers of us are shopping online and shunning the High Street. But outside John Lewis's Oxford Street store some shoppers are sceptical.
"It just smacks of desperation," says customer Fiona, "it's so materialistic it's sad."
Another, Shereen, says she finds the idea of sleeping in a shop "cold and impersonal", although Robin says he would happily give it a go.
"It's a weird idea but it's quite fun… I think that sort of thing is good for the High Street."
From yoga classes to guest lectures, and celebrity appearances to planned cycle rides, retailers around the world are increasingly offering "experiences" on their premises to reel us in and get us spending.
In fact, according to research from Barclaycard Payment Solutions, more than a third of UK retailers now host such events, while 19% plan to start doing so in the next three years.
It comes at a time when online shopping has left High Street sales under pressure, contributing to big brands such as Jaeger going into administration, and American Apparel, Marks & Spencer and Macy's closing many outlets.
John Lewis wouldn't let us speak to anyone who'd stayed at its store, but customer experience director Peter Cross says that "thousands" applied for the opportunity.
He also points to a long list of quirky customer experiences now offered in John Lewis stores, including boxing classes, a personal styling service for men, product training workshops, and nail and brow bars.
"I think it comes from the recognition that the role of shops has to change, and they have to be more than a route to sell things," he says. "Retailers have to think of new reasons why customers might want to come into physical spaces."
Some believe offering novel experiences in shops drives footfall, encourages people to stay in stores for longer, and builds customer loyalty – all of which lifts sales.
In September, Barclaycard surveyed 250 UK businesses, and found that those who hosted events and provided entertainment saw annual turnover increase by 14% – although it admits it couldn't definitively prove that the experiences were the cause.
One advocate of the trend is Evans Cycles, the high-end bike seller. It began running group bike rides from its stores this year, and plans to expand the initiative in 2018.
"Cycling can be pretty male dominated, but the rides attracted more women than we expected, and cyclists who were just getting the bug," says James Backhouse, marketing director at the UK firm.
In addition, more than half of those who took part spent money in the stores straight after the event.
"If you have an average looking shop with average products this sort of thing won't save you," adds Mr Backhouse.
"But if you are doing everything else well then this will help. Renting space on the High Street is expensive, but the one thing you can't do online is meet people."
More stories from the BBC's Business Brain series looking at interesting business topics from around the world:
Peter Fadar, a marketing professor at the Wharton School of Business, Pennsylvania, says that while more shops are putting on events and entertainment, most don't do it well.
"Much of it is in a novelty phase – consumers may be taking the bait but they will tire of it, and a lot of these initiatives won't work."
He notes that in the past, shops used to be social hubs at the centre of communities, and modern retailers are trying to recreate that effect. But delivering that sort of intimate customer relationship at scale is "extremely difficult".
"The retailers who get it right become trusted advisors to their customers about all kinds of things, not just the products. They aren't blatantly trying to get you to buy."
Lululemon Athletica, which sells yoga-inspired athletic apparel around the world, believes it has achieved this goal and it has paid off.
Every week, each Lululemon store turns itself into an "instant studio", offering activities ranging from yoga and meditation, to running clubs and high intensity interval training. Last year net revenues at the Canadian firm increased by 14% to $2.3bn (£1.7bn).
Its chief executive Laurent Potdevin tells the BBC: "We know people want human connection, so are reshaping the retail experience to reflect that in our stores."
But some have criticised the brand for being too expensive, and questioned the authenticity of its yoga-inspired image.
Some brands may find it easier to offer targeted experiences than others. After all, how many of us would want to "shop and stay" in a bank or a supermarket?
Regardless, physical retailers need to respond to the rise of online shopping if they are to stay relevant, says George Allardice, head of strategy at Barclaycard Payment Solutions.
"Just going to a shop is no longer enough to justify spending more than you would online, or the time and petrol money it costs you to get there. You need to offer more."