World's oldest man's secret to longevity revealed
Born on 25 July 1905, months before Albert Einstein published his theory of special relativity, Mr Nonaka lives with his family who run a hot springs inn on Japan's northern island of Hokkaido.
The supercentenarian, whose exact age is 112 years 259 days, married his wife Hatsuno in 1931 and the couple had five children.
Mr Nonaka has taken the Guinness World Records title as the oldest man on Earth after Spaniard Francisco Nunez Olivera died in February aged 113.
Receiving his certificate, Mr Nonaka, wearing a knit cap and a kimono-style jacket, flashed a smile and posed for a group photo with his family, making a victory sign with his right hand.
He dug into a cake bought for the celebration and said it was "delicious".
His granddaughter Yuko Nonaka said: "He needs a wheelchair to move but he is in good condition.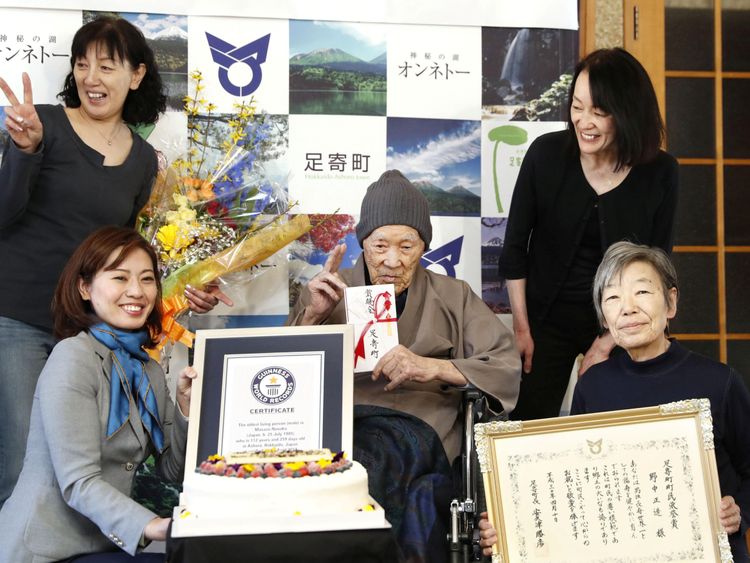 "He loves eating any kinds of sweets – Japanese or western style. He reads newspapers every day and often soaks in the hot springs."
Guinness World Records is currently investigating possible contenders for the title of oldest living person as no one has been recognised since Violet Brown from Jamaica died in July 2017, aged 117.
More from World



LIVE: Trump skips summit to spearhead Syria attack response




Kim Jong Un makes first public reference to Trump summit




'End of the road' for Pistorius as court rejects appeal




Man charged over drugging and rape of British teen on Thai island




Syrian regime celebrated after Marie Colvin assassination, US lawsuit claims




Global markets rise as China's President Xi vows to cut auto tariffs
Japan is well-known for the longevity of its people and has been home to several oldest title holders, including Jiroemon Kimura, who died in June 2013 at the age of 116.
The country boasts around 68,000 people aged 100 or older, the Japanese government said in 2017.