World's oldest elected leader to be sworn in at 92
The 92-year-old has steered the first opposition party to victory since the country was liberated from British rule in 1957.
Mr Mohamad, leader of the Pakatan Harapan coalition, is expected to be made prime minister despite concerns his opponents are trying to cling to power.
However, anxiety has stirred among his supporters as he was not sworn in by the king this morning as expected.
He insists he will be made leader once again.
"We expect today for me to be sworn in as prime minister," he told a news conference.
"There is an urgency here. Currently there is no government in Malaysia."
The veteran politician previously ruled the country for 22 years as leader of the Barisian National coalition (BN) before stepping down in 2003.
He came out of retirement and defected to Pakatan Harapan, formed in 2015.
Mr Mohamad's unexpected victory has now toppled the BN, which had ruled the country for 60 years.
Malaysia's defeated prime minister Najib Razak said after his loss: "I accept the verdict of the people and BN is committed to the principles of democracy."
However, he did not give a clear concession, saying it was up to the king to decide as no single party was the outright winner.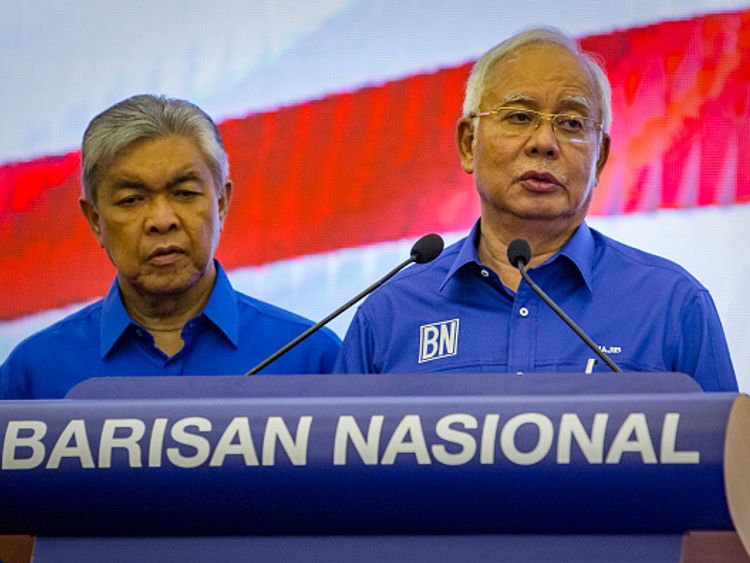 Despite Pakatan Harapan picking up the most votes, no party won an overall majority.
Official results show Mr Mohamad secured 113 of the 222 seats available, while the BN took 79 seats.
Political analysts have warned that Mr Razak could be trying to buy time to win defections from other parties so he can stay in power.
During his previous tenure, Mr Mohamad was credited with modernising Malaysia, but also imprisoned opponents and subjugated the courts.
He emerged from political retirement after being angered by a scandal at the state-owned investment fund 1MDB.
The US justice department claims $4.5bn (£3.3bn) was looted from 1MBD by associates of Mr Razak between 2009 and 2014, including $700mn (£514m) that landed in the prime minister's bank account.
Mr Razak has denied any wrongdoing.
Mr Mohamad says the new government will not conduct a witch-hunt, but that his predecessor will have to face the consequences if he has broken the law.
His victory is expected to inspire hope for wholesale change on rights protections, press freedom, anti-corruption measures, changes to divisive race-based policies, and true democratic rule.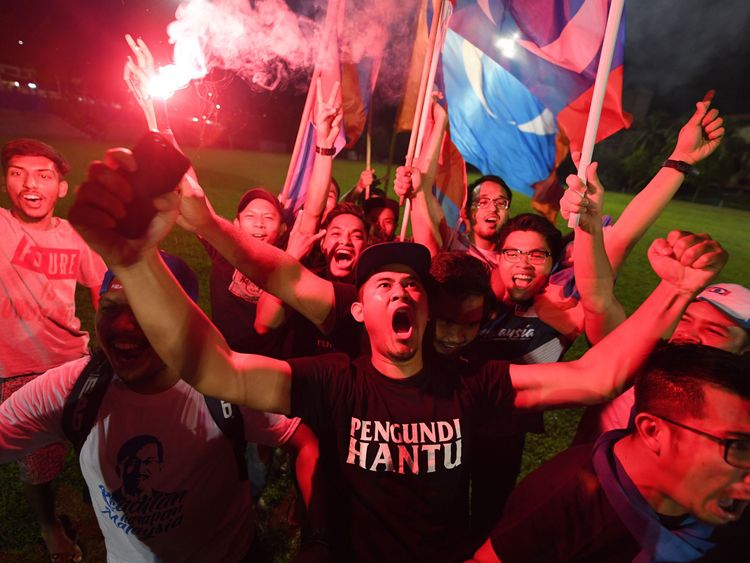 After the votes were counted, he made a lively speech, saying Malaysia had been left in a "mess" by Mr Razak and his coalition.
Mr Mohamad competed in the election in an alliance of opposition parties he crushed while in power, which included jailed opposition icon Anwar Ibrahim.
He has pledged to get Mr Ibrahim, who is due out of jail in June, a royal pardon.
Mr Mohamad reportedly plans to eventually pass the premiership on to the man who is one of the country's most charismatic and popular politicians.
Supporters of the incoming government took to the streets of Kuala Lumpur to celebrate the unexpected victory.
The world's oldest elected leader is currently Tunisia's 91-year-old president Beji Caid Essebsi.
Zimbabwe's Robert Mugabe was the holder of the title until he resigned aged 93 in 2017.
Queen Elizabeth II, who is 92, is the world's oldest-serving head of state, but was not elected.