World Cup 2026: Morocco to face joint United States, Mexico & Canada bid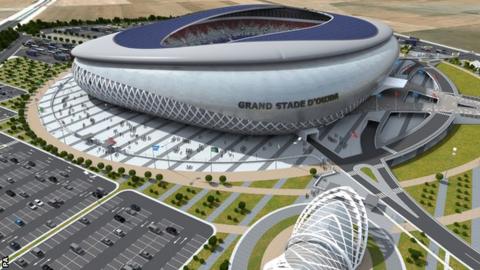 Morocco's bid to host the 2026 World Cup has passed a Fifa inspection – but is deemed "high risk" in three areas.
The North African country will compete with a joint United States, Canada and Mexico bid in a vote on 13 June.
Morocco scored 2.7 out of five in Fifa's test while the joint bid scored four, with no "high risk" areas.
Fifa said of the 14 stadiums submitted by Morocco, nine were yet to be built and the remaining five "require significant renovation or upgrading".
Only two of the 14 stadiums were deemed to have "sufficient levels of accommodation" resulting in a second "high risk" conclusion.
A third area of analysis – accommodation and transport combined – was also deemed "high risk".
However, Fifa's taskforce said it had obtained "enforceable government guarantees" which state the 12 host cities in Morocco will have a sufficient number of hotel rooms by 2026.
The North American bid did not contain any high risk elements but had three medium risk measures – government support, human rights and labour standards, and organising costs.
In analysing the human rights aspect of the bid, it was concluded new entry regulations being proposed by the US could damage "discrimination-free entry" to the country.
World football's governing body could have disqualified Morocco had the bid scored less than two overall.
Both candidates now have to be approved at a meeting on 10 June before a vote of the 207 Fifa members three days later.
Morocco has said it needs to spend almost $16bn (£12bn) on infrastructure for what will be the first 48-team World Cup, while the North American bid does not require any tournament-specific building work.
Morocco has unsuccessfully bid four times before, in 1994, 1998, 2006 and 2010, the latter occasion being when South Africa became the first African nation to host the World Cup.
The United States hosted the tournament in 1994 and bid unsuccessfully for 2022, while Mexico staged the 1970 and 1986 tournaments.
Analysis
BBC sports news correspondent Richard Conway
"It is now all to play for."
The words of one senior Fifa source sum this race up right now. Morocco will be on the ballot paper on 13 June – a fact that will alarm Fifa's leadership.
I reported earlier this year on how Gianni Infantino is understood to be privately backing the US/Canada/Mexico bid, given the headache-free preparation it offers and revenues that far outstrip those on offer from Morocco.
But the North African bid has made it through this crucial stage.
The race for votes is thought to be too close to call – with Morocco's tournament proposition, antagonism to US president Donald Trump, and simmering tensions between Uefa and Fifa all fuelling support for the case for a second African World Cup finals.
A simple majority of Fifa's 207 eligible voting members is needed to win. So 104 votes is the magic number.
But consider this – the European and African confederations have 111 member nations between them. Some of those football chiefs will inevitably vote as they see fit on the day. But could we yet see a deal struck that would involve a large number of Uefa nations supporting Morocco in return for African backing for a European bid for the 2030 World Cup?
As with most Fifa matters, there's more to this vote than meets the eye.