World Cup 2018: Kyle Walker hails 'togetherness' in England camp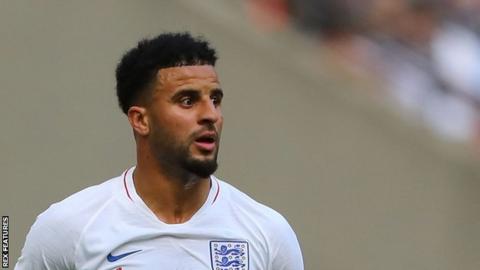 England defender Kyle Walker says manager Gareth Southgate has helped forge "togetherness" in the squad ahead before the World Cup.
Southgate's side face Costa Rica on Thursday in their final warm-up game before travelling to Russia on 12 June.
"I fully believe in the players that we have in the squad. The manager has brought some brilliant ideas and we've all bought into it," Walker, 28, said.
"I've seen players come and go and it was a different atmosphere before."
The Manchester City full-back continued: "Now that we all click, I feel quite comfortable sitting with anyone and talking to them, whether it's football or absolutely anything.
"That's the environment that we need to take into the World Cup because the quality in the team is going to show for itself but also the togetherness is going to pull us through."
Manchester City forward Raheem Sterling, one of five players named in the squad who also played at the 2014 World Cup, has also noticed a positive change in morale.
"Everyone here gets along no matter what club you're from," he said. "Once we get here we're always together, always having a laugh and a joke, so it's great to see."
England now in 'different era'
Former England boss Fabio Capello came under criticism for the atmosphere in the training camp at the 2010 World Cup in South Africa but Southgate says there has been a change in the years since, particularly in rivalries between players of different clubs.
"It's a different era, a different group of players. A lot of them have played together in the younger age groups," Southgate said.
"At the moment there hasn't been an intense club rivalry that perhaps existed 10 or 15 years ago.
"Maybe that will happen over the next few years but for now they are enjoying each other's company."