World Cup 2018: England's Danny Rose reveals depression diagnosis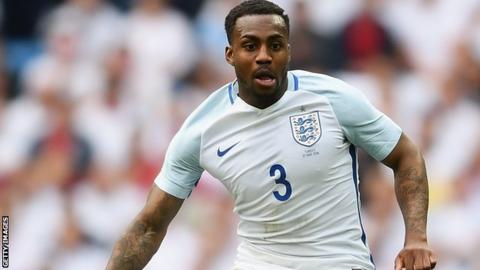 England defender Danny Rose has revealed he has had depression, which he says was triggered by a combination of injury and family tragedy.
The Tottenham full-back, 27, made the admission in a frank interview with several national newspapers.
"It's no secret that I've been through a testing time at Tottenham this season," said Rose.
"It led to me seeing a psychologist and I was diagnosed with depression, which nobody knows about."
He added: "I haven't told my mum or my dad, and they are probably going to be really angry reading this, but I've kept it to myself until now."
'England has been my salvation'
Rose said the treatment of a knee injury sustained in January 2017 – which saw him sidelined for eight months – was the start of a period of personal turmoil.
"My uncle killed himself in the middle of my rehab, and that triggered the depression as well," Rose said.
"Off the field there have been other incidents: back home in August my mum was racially abused in Doncaster. She was very angry and upset about it, and then someone came to the house and nearly shot my brother in the face – a gun was fired at my house.
"England has been my salvation and I can't thank the manager and the medical staff enough. It was really hard, and being referred to a doctor and psychologist by the Spurs club doctor helped me massively to cope."
Rose said having to undergo surgery on his injured knee, having initially been told it was not necessary, only added to his frustration.
"I was getting very angry, very easily," he said. "I didn't want to go into football, I didn't want to do my rehab.
"It all stemmed from my injury when I was advised I didn't need an operation. I don't know how many tablets I took to try and get fit for Tottenham, how many injections I took trying to get fit for Tottenham. I had cortisone and platelet-rich plasma injections trying to be fit for my club.
"I had to have an operation four months down the line – after all that football I missed, when the team was flying and I was playing really well, the team were playing really well.
"I'm not saying I've had worse treatment than anybody else. That's football. But it was difficult – that was the start of it.
During his injury absence, Rose caused controversy with comments in a newspaper suggesting he and his team-mates were underpaid.
He also criticised Spurs for a lack of signings and said the club needed to bring in well-known players and "not ones you had to Google".
Rose subsequently apologised, which was accepted by Spurs boss Mauricio Pochettino.
"Things were said and things happened behind the scenes at my club, and I don't want to go into any detail because I'll end up being fined again," he said this week.
Reacting to Rose's interview, the Professional Footballers' Association's head of player welfare, Michael Bennett, said it was important for players to speak out.
"We are finding the more that players are coming out and sharing their experiences, the more it is making it comfortable for others to do so," Bennett told BBC Radio 5 live.
"For Danny Rose to come out and express how he has struggled with personal issues is fantastic in itself and fantastic for football and those who have suffered in silence.
"There are pressures and high demands, particularly in football. It is a constant battle to stay fit, win games and a pressurised environment. You have up and down emotions in football so if you have that seven days a week, it will impact on your well-being.
"The England players, coaching and medical staff are aware of the support they have in place so if they need to access any of the services that we have in place, we will happily support them during the World Cup and afterwards."
'If I'm racially abused in Russia, nothing is going to change'
In a separate interview given to the Evening Standard, Rose, who is expected to feature in England's final World Cup warm-up against Costa Rica on Thursday, said he had become "numb" to racial abuse and has "no faith" in football's authorities to challenge it.
He also revealed he told his family not to travel to the World Cup in Russia over fears of abuse.
The Russian Football Union was recently fined £22,000 for racist chants by fans in a friendly against France in March.
"If I'm racially abused out there, nothing is going to change," Rose said. "It shouldn't be like that but it is."
Rose added that he does not want to "worry for his family's safety", while preparing for his first World Cup.
"I've told my family I don't want them going out there because of racism and anything else that may ­happen," he said.
"My dad's really upset. I could hear it in his voice. He said he may never get a chance again to come and watch me in a World Cup.
"That was emotional, hearing that. It's really sad. It's just how it is. Somehow Russia got the World Cup and we have to get on with it."