Workers' grit and everyday heroes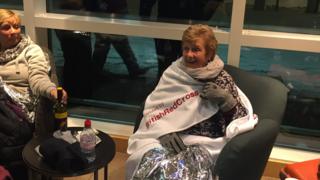 The Beast from the East and Storm Emma have blanketed much of Britain in snow.
Hundreds of motorists were stranded and the extreme weather has seen many unable to reach their workplaces.
But many did venture out to brave the cold conditions and offer assistance to those in need.
From delivering food and water to clearing roads, some have gone out of their way to help, even as a red alert warning was extended to south-west England and South Wales after parts of Scotland faced adverse weather conditions overnight.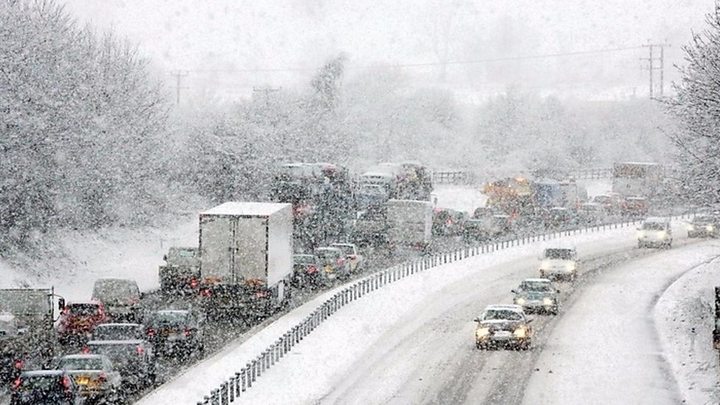 Lesley Forster was stranded on the M80 in Scotland for 17 hours. After leaving Edinburgh at 2pm Wednesday afternoon, she didn't make it back home until Thursday morning.
"I had nothing with me," she told the BBC.
"I had to use the water I had to put in to my window wipers. I have never been so frightened in my life."
Fortunately for Ms Forster, a "young lad" who lived nearby was on hand with food and water for stranded motorists.
"He came out of his house with a sled filled with water and a few bits of food – all he had in the house – and handed it out," she said.
"I'm so grateful to him."
Ms Forster was not the only stranded motorist to benefit from the assistance of kind-hearted locals.
Rachel Muircroft paid tribute to the man who handed out water and snacks when the bus she was travelling on was caught up in the M80 standstill.
John Gent was attempting to travel from Aberdeen to Devon, when he too was stuck on the M80.
"Last night local people were walking up and down and bringing water and sandwiches," he told the BBC.
"The fire brigade were also giving out water," he added.
Kerry Thomson and her family own a cattle and sheep farm in West Linton, a village south west of Edinburgh.
"We went out this morning with the tractor clearing all the tracks down so people could get in and out of the village," she told the BBC.
"Pretty much the only other people we saw out were in tractors, out helping.
"Tractor is really the only way to get around at the moment.
"The village was effectively cut off so deliveries can't get in or out. I've got a bread maker so I'm making bread to deliver," she added.
Workers in the emergency services or hospitals often don't have the luxury of not being able to get to work.
Glasgow-based surgeon Andy Renwick told BBC Radio Scotland that one colleague walked from Anniesland to Paisley – almost eight miles – to operate on a cancer patient.
"I won't give her name because she would be genuinely upset with me," he said.
"She walked from Anniesland to Paisley – it took her two hours and 50 minutes. I saw her come in, she had snow goggles on, Gortexed up, top and bottom, snow shoes and walking poles.
"She is operating today on someone who has bowel cancer, she knew that had to be done and so she has made extra effort to get in here to make sure that was actually delivered."
Emily O'Connor, a trainee obstetrician at Cork University Maternity Hospital, posted a picture on Twitter of her walk to work through the snow with a friend early on Thursday morning.
One proud child posted that his 65-year-old dad, who is a nurse in Sheffield, "walked miles to get to work through heavy snow".
"Nothing will stop him," he added.
In Edinburgh, a bus company scheduler posted that his staff were walking miles to reach work.
Also in Edinburgh, Jonny Borland found an abandoned wintry scene in St Andrews Square.
When he approached a coffee shop, he found the only employee who had made it in – Amy had walked over two miles to get to work. But the shop and St Andrews Square have since closed due to bad weather conditions.
By UGC and Social News team