A Danish NGO, with the support of the Afghan Women's Ministry, trains the first Afghan deminers in Bamiyan
MADRID, Dec. 29 (EUROPE PRESS) –
When Najeeba Qasimi decided to devote himself to demining, the first obstacle he encountered was in his own house. His father, his mother and other family members were opposed to dedicating his life to a job that they considered improper for a woman because of the serious risks involved, in a country where many do not accept that they take on the same jobs as them.
Instead of resigning herself, this young Afghan woman took a camera and recorded a video to show her family what her job is and why it is worth risking her life so that no more people die from stepping on a mine or an improvised explosive device.
Najeeba convinced his family, completed the period of instruction and today is part of a pioneer demining team formed solely by women who have already completed the demining of Bamiyan, the northern region of Afghanistan that for centuries housed the two giant buddhas that the Taliban blew up in 2001 because they considered statues contrary to Islam.
"My father, my mother and the rest of the family disagreed with the risks associated with demining work. That is why I had to work with my family and made a video to convince them that I was doing the right thing and which is something I like. That was my first achievement: convincing my family, "says this young Afghan demining expert, in a telephone interview with Europa Press.
Convinced his relatives, Najeeba embarked in 2018 with another thirteen Afghans in a one-month theoretical and practical training course within the framework of a project promoted by the Danish non-governmental organization Danish Demining Group, with the support of the Afghan Ministry of Affairs Women and the Mine Action Coordination Directorate (DMAC), to form a team of women mine clearance specialists.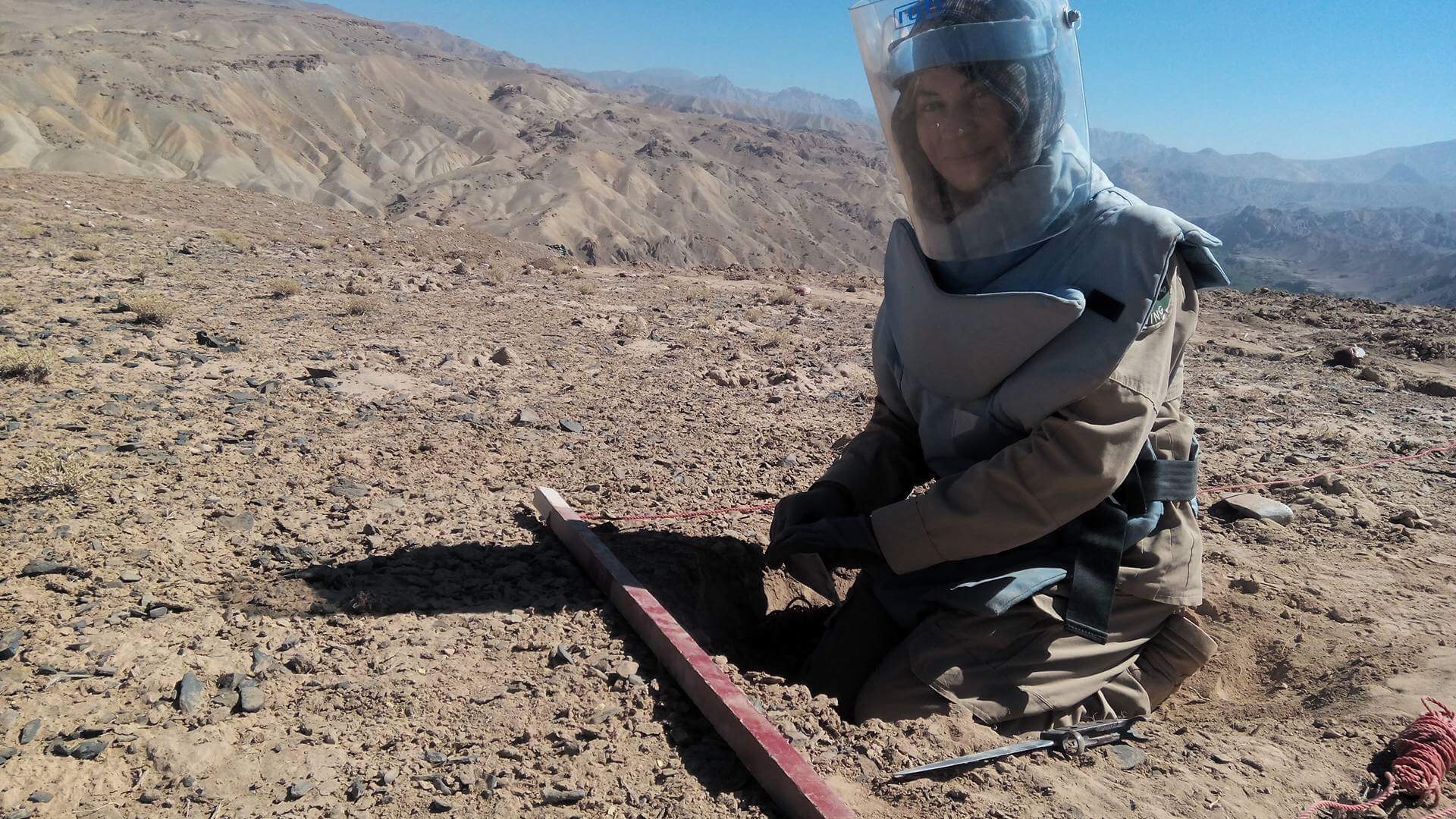 DMAC
The course ended with an exam and Najeeba was one of the ten selected to form the group of deminers, which then went on to work for six months on the ground in Bamiyan cleaning an area of ​​mines and explosive devices.
"The women deminers come from different districts and different provinces, including the Bamiyan, Daikondi and Balj regions. One of the deminers is 26 years old and worked for the Electoral Commission before becoming a deminer. Another 32 years worked as a teacher. one of us comes from a different professional sector and from a different district and province but we are mainly from two ethnic groups: Hazaras and Sadats, "explains Najeeba Qasimi, 23, a member of the Sadat minority.
When they started working in Bamiyan cleaning the land of mines, the first problems faced by the deminers were related to the transfer of their heavy equipment, which they had to carry each one of them because they did not have the means. "The equipment we carried every day weighs 30 to 35 kilograms. We had to carry them on foot for about 50 minutes. First we had to take them each, then we already have cars to take the equipment to the top of the mountain," he says. .
In 2018, this group of women completed seven months of field work in Bamiyan cleaning the area of ​​mines and explosive remains and in April 2019 another demining project began that ended in November and with which this province of northern Afghanistan It has been declared as mine free.
THREATENED TO DO A JOB THAT "WOMEN SHOULD NOT DO"
In these two years of work, Najeeba has had to endure threats by phone and also from the social networks of people who require him to quit his job and who reproach him that what he does is not something that women should do, let alone Muslim
"I have received phone calls and anonymous messages of threats, even on my Facebook account, where I had to change my identity. They told me that those images that I have put on Facebook demining are things that women should not do, especially women Muslims, "he explains.
The threats do not know if they may have come "from relatives" or "if they are serious or joking" but Najeeba remains firm in his commitment to a job that he considers necessary and with which he enjoys and says that the deminers feel the support of the Afghan institutions.
"We undoubtedly feel the support of the local authorities, of the provincial direction of the Ministry of Women and of the National Directorate of Disaster Management, on which the Directorate of Coordination of Mine Action of Afghanistan depends," he says.
When asked if he is confident that the example of his demining team will be a role model in other regions of Afghanistan, he does not doubt that the experience should be able to move to other provinces of the country.
"WE CAN WORK LIKE MEN FOR PEACE"
"The team is a good example for us and for other parts of the country, so that it is perceived that women can work in demining and to see that we can work like men for the peace of Afghanistan," he emphasizes.
Najeeba makes it clear that women can do everything they consider whenever they face their goals with "courage." "As a member of the demining team, my message to women is that if they want to do something they have the ability to do it as long as they have the courage to try it. If they want to start working, even if it seems like something very far from their reach, they have to have the courage to try and convince family members to be able to do it and to enjoy it, "he says.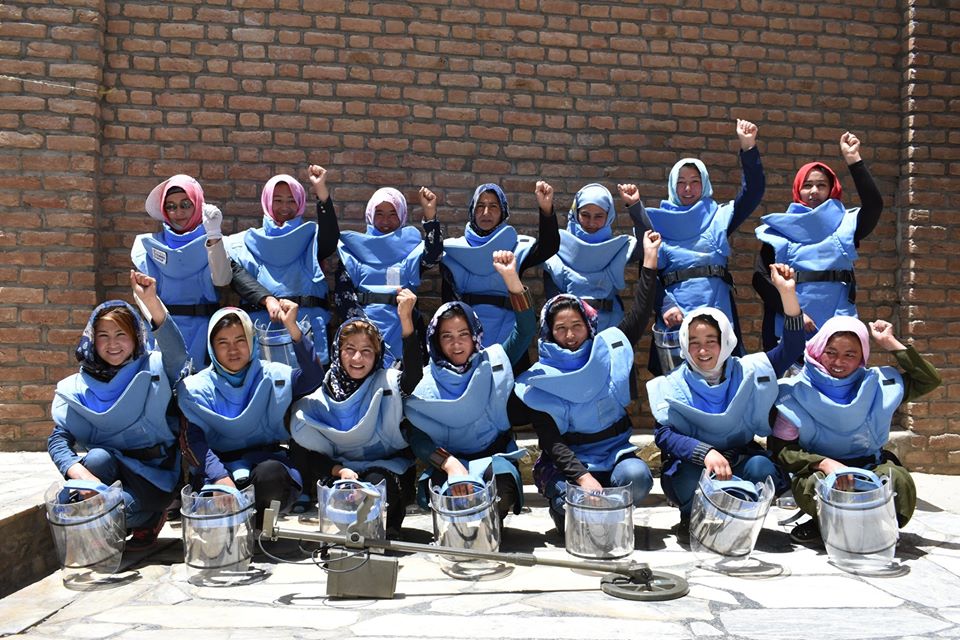 DMAC
"My family is very proud of the work I do in the demining field," he concludes, before explaining that when he started talking to journalists about the work of his demining team he preferred not to show his face in the media and that now He already speaks in the open face.
Najeeba Qasimi and the rest of the women who make up the first team of deminers in Afghanistan have been nominated by the Arms Control Association for the Best Person Award of the year 2019, for their example of "empowerment" of women and for having got Bamiyan declared the first Afghan province free of mines.
"Their tenacious efforts are important examples of empowerment in the country and underline the importance of humanitarian disarmament," said the NGO, in the statement announcing the nomination.
According to data from the Afghanistan Mine Action Coordination Center (DMAC), the first women experts in mine detection and removal have managed to release more than 180 million square meters of surface in this province, until the first region is declared mine-free of the 34 that make up in Afghanistan. Bamiyán currently has 20 deminers, distributed in two different teams.