Woburn Safari Park fire: Thirteen monkeys killed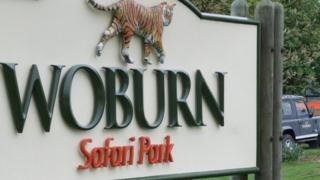 Thirteen monkeys have died in a fire in an enclosure at Woburn Safari Park.
The roof of the Patas monkey house, within the African Forest drive-through enclosure, collapsed as a result of the blaze.
Fire crews arrived at 02:37 GMT to find the outbuilding "well alight", and spent two hours extinguishing the flames.
"Devastatingly", the park said, none of the animals could be saved despite the efforts of staff and crews.
In a statement, the park said all the other animals in the jungle drive-through enclosure were being monitored, but early signs suggested they had not been affected.
A member of the park's security staff spotted the fire during a routine patrol, Bedfordshire Fire and Rescue Service said.
It took fire crews two hours to put out the blaze after they arrived at 02:37 GMT.
An investigation into the cause of the blaze has begun. The attraction will remain open to the public.