Winter Paralympics: Sean Pollard – Australian who became a Paralympic snowboarder after shark attack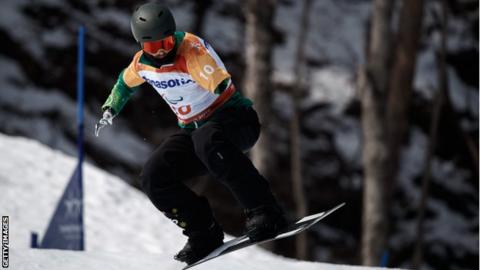 Winter Paralympics on the BBC
Venue: Pyeongchang, South Korea Dates: 9-18 March Time in Pyeongchang: GMT +9
Coverage: Follow on Radio 5 live and via the BBC Sport website. Television coverage on Channel 4.
"I lost my left arm and right hand to a shark. Since then I've come a long way."
Australian Sean Pollard does a good job of underselling the past three and a half years of his life.
First, it was two sharks. Secondly, he's come more than a long way, after finishing ninth and fifth in two snowboard events on his Winter Paralympics debut.
He had never even seen snow until 30 months ago.
Pollard, 26, was a keen surfer and it was while he was on his board in the sea at Wylie Bay, off the coast of Esperance, Western Australia, that he fought off two great whites – but not without losing his left arm and right hand.
He lost more than three pints of blood and needed 150 stitches. He counts himself lucky to be alive, thankful for getting to the hospital within an hour from the remote beach.
Speaking in 2015, he said the image that stayed with him was one of the shark's eyes – "the blackest black I'd ever seen".
Surfing is much more of a challenge now, although he can still ride the waves with the aid of specially fitted paddles.
Fortunately, he found snowboarding on a trip to Canada with friends.
"September 2015 was the first time I've ever seen snow," he told BBC Sport.
"I'm from Western Australia – there's no snow there, mate. I loved it with some friends and got into the sport from there."
Since then he has gone on to become one of the top Para-snowboarders in the world, currently ranked eighth in banked slalom and 11th in snowboard cross.
His first Winter Paralympics in Pyeongchang have been a success, competing in a classification for athletes with upper limb impairments – although against many boarders who have single-arm disabilities.
The qualified electrician finished ninth in Monday's snowboard cross and then an impressive fifth in banked slalom on Friday.
"Snowboarding has been a big part of my recovery," he said.
"I plan on keeping snowboarding. Surfing is not as easy for me now – snowboard has filled the hole for me.
"I was a bit down after my boarder cross result. It's good to back it up today and get a good result. I'm pretty happy.
"It's huge here at the Paralympics. You feel the pressure a bit more and I'm happy with the result.
"Now I'm planning to throw my sails to the breeze and see where it blows me."