Winter Olympics: Nine unlikely stars of Pyeongchang 2018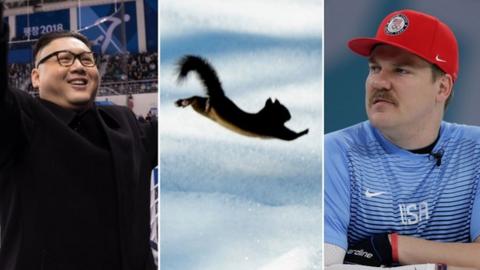 Mikaela Shiffrin, Shaun White, Marcel Hirscher, Tessa Virtue and Scott Moir – all the big names lived up to the hype when their moment arrived.
But what of the Winter Olympics' surprises?
There were a few, and not all came in the form of shock gold medals.
Let's take a look at the unlikely stars of Pyeongchang 2018…
The squirrel with a death wish
There really had to be an animal in this list – and the penultimate day of competition delivered the goods.
Milena Bykova, competing for the neutral Olympic athletes from Russia team, narrowly avoided squishing the little critter on her run in the snowboarding giant slalom.
The slow motion replay shows it JUST got away unharmed – bar the inevitable palpitations.
Gold medal for bravery to that squirrel.
Everyone at the finish line of the 15km cross country
Bookmark this page for those moments you need a pick-me-up, or even a little cry.
Tongan taekwondo fighter turned cross country skier Pita Taufatofua, known as "the topless Tongan", finished 114th in the 15km race.
The 34-year-old may have been 23 minutes slower than the gold medallist but he didn't see that as failure.
His aim was to not ski into a tree and to finish before they turned out the lights. Nailed it.
Not only that, but he displayed outstanding sportsmanship, waiting at the finish line for last-placed German Madrazo before hoisting the 43-year-old Mexican onto his shoulders.
Despite the freezing conditions, the crowds stayed the extra half an hour to cheer on the remaining finishers.
Hot chocolates all round.
Kenworthy and his boyfriend
Freestyle skier Gus Kenworthy, despite his 12th place finish, says this Olympics was more fulfilling than when he won a silver medal in Sochi four years ago.
Why?
"Because I did it as me" he told CNN.
Kenworthy, who came out as gay in 2015, shared a kiss with boyfriend Matthew Wilkas before his qualifying run, a moment that has become a viral sensation and been hailed as a celebration of lesbian, gay, bisexual and transgender pride.
"My childhood self would never have dreamed of seeing a gay kiss on TV at the Olympics, but for the first time ever a kid watching at home CAN! Love is love is love." he added.
Howard – the Kim Jong-un lookalike
A Kim Jong-un impersonator made the headlines when he was removed from the ice hockey arena, having tried to join in with the North Korean cheerleaders during the unified Korean women's ice hockey team's match against Japan.
The imposter, who identified himself only as Howard, was filmed shaking hands with crowd members as he was escorted out of the arena by security.
He reportedly claimed he had not committed any crime by looking like the North Korean president and cheering a hockey team.
Earlier, he gatecrashed the opening ceremony with a doppelganger of US president Donald Trump.
"My face is too political," he said. "I was born with this face, I've got to live with it."
Facial hair
These Olympics gave us two of best moustaches we have seen. Possibly ever.
American Matt Hamilton was the proud owner of one of them – and it was clearly lucky as the United States upset the odds to beat favourites Sweden to gold in the men's curling.
But we have to hand it to Robert Johansson and his outstanding face fuzz.
The Norwegian ski jumper is taking home a gold and two bronze medals from Pyeongchang – but, more importantly, he can add 'BBC Sport's facial hair of the Games award' to his Wikipedia page.
The 'Garlic Girls'
In a country which only a few weeks ago had barely heard of curling, the South Korean national team became superstars.
The "Garlic Girls" are so named because of the small garlic-producing region they come from.
Then there are the names they gave each other after sitting down for breakfast one day: Steak, Yogurt, Pancake, Sunny and Chocho.
They appear so modest, but these incredible, determined underdogs won comfortably against established curling nations such as Canada, Great Britain and the US and made it all the way to the gold medal match.
The Swedes has clearly not read the script though – they beat the home side 8-3 in the final.
Fashion… (darling)
We have seen some outstanding outfits from competitors and fans alike in South Korea.
The Norwegian curling team absolutely smashed it on Valentine's Day with these trousers, despite the awful colour clash with their shirts.
Team USA's Nasa-inspired snowboarding outfits stood out. They even came complete with spaceman helmets for those medal-winning moments.
And while the majority of figure skaters opt for short, sparkly dresses, France's Mae Berenice Meite looked incredible in this embellished cat suit.
The word "chic" springs to mind.
The 'Passion Crew'
BBC Sport's Nick Hope in Pyeongchang:
London 2012 had its 'Games Makers', Sochi 2014 its 'Ice Makers' and Baku 2015 the 'Flame Makers' – all of whom were brilliant – but the volunteers at Pyeongchang 2018 have been on another level.
They may have been given an official – and somewhat unfortunate – "Passion Crew" title but they have lived up to that enthusiastic billing with constant energy and countless 'Gangnam Style' dance renditions.
Friendly, phenomenally good at English and always smiling, they helped lift the spirits of athletes, coaches, media and spectators during the most brutal sub-zero temperatures in South Korea.
The unofficial stars of the Games.
Big air
What a spectacle. A new event for this Olympics and we certainly hope it is here to stay.
The women's competition allowed the athletes to show their full potential, after bad weather made for a chaotic slopestyle final, with Austria's Anna Gasser the pre-games favourite proving her star quality.
And as for the men's final – well, Team GB found themselves a flag bearer.