Winter Olympics: First test for joint Korean ice hockey team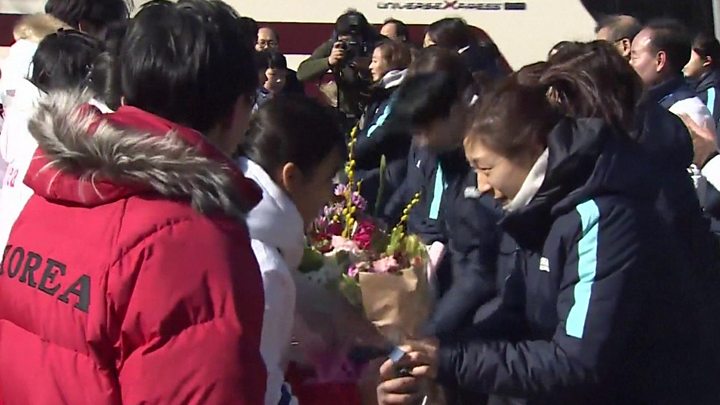 The joint North and South Korean ice hockey team is set to play its first match on Sunday, ahead of the Pyeongchang Olympics in South Korea.
The match is an international friendly against Sweden, who the unified women's team will face during the Games, which start next Friday.
It will be the first and only practice match for the squad.
The combined side was formed after the two Koreas reached a controversial deal to compete under the same flag.
The move proved unpopular with some in the South, who believe the late inclusion of North Korean players will jeopardise their chances of a medal.
North Korea's participation in the Olympics, which run from 9 to 25 February, is being seen as a dramatic show of reconciliation.
It comes at a time of heightened tensions over the North's nuclear ambitions, following a series of missile tests designed to demonstrate its nuclear capability.
As well as the ice hockey players, its athletes will compete in skiing and figure skating events.
The North is also sending hundreds of delegates, cheerleaders and performers.
The South Korean unification ministry has published pictures of the ice hockey team getting to know one another and celebrating a player's birthday.
The BBC's Laura Bicker, in Seoul, says it's a bid to combat claims that South Korea's players are being used as political pawns at their own home Olympics.
Earlier this week it emerged that the North had scheduled a large-scale military parade for 8 February, the day before the Winter Olympics commences.
North Korea said no-one had the right to take issue with its plans, and cancelled a cultural event scheduled to be held jointly with the South.