Winter Olympics: British winter sport 'going in right direction' as Pyeongchang 2018 ends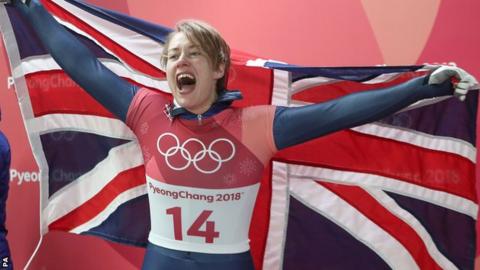 Great Britain's record medal haul at Pyeongchang 2018 shows winter sport in the country is "going in the right direction", said the team's chef de mission as the Games ended on Sunday.
Team GB won five medals in South Korea, surpassing the previous record of four and meeting their pre-Olympics target.
It came on the back of £28.35m funding from UK Sport.
"These athletes can rightly return home very proud of what they accomplished here in South Korea," said Mike Hay.
Lizzy Yarnold defended her skeleton title to win Britain's only gold, while Dom Parsons and Laura Deas took bronze in the same sport.
Izzy Atkin was also third in the ski slopestyle and Billy Morgan claimed a surprise bronze in the big air competition.
"To leave Pyeongchang with five medals – our best ever Games in that respect – and a host of fourth-place finishes and top 10s across the sports shows that winter sport in the United Kingdom is going in the right direction," added Hay.
'Sport brings together fragile world'
After the awarding of 102 gold medals in 15 sports across 16 days, nearly 3,000 athletes from 92 countries marched into the Pyeongchang Olympic Stadium, greeted by colourful light shows and South Korean music, for Sunday's closing ceremony.
South Korean president Moon Jae-in and Ivanka Trump, the daughter of US president Donald Trump, were in attendance, as was General Kim Yong-chol, the head of North Korea's delegation.
As they did in the opening ceremony, and following the entry of a unified Korean women's ice hockey team, South and North Korean athletes marched together at the closing ceremony.
"With your joint march, you have shared your faith in a peaceful future with all of us," said Thomas Bach, president of the International Olympic Committee (IOC).
"You have shown how sport brings people together in our fragile world; you have shown how sport builds bridges. The IOC will continue this Olympic dialogue, even after we extinguish the Olympic flame.
"In this, we are driven by our faith in the future."
It was a Games that featured new events in big air snowboarding, mixed doubles curling, mass start speed skating and mixed team alpine skiing, as well as competitors for the first time from countries such as Nigeria, Kosovo and Ecuador.
Bach said Pyeongchang was a "Games of new horizons", as a number of delegates joined him on stage – including Tongan cross country skier Pita Taufatofua and American Lindsey Vonn.
"These Olympic Winter Games have introduced new events that appeal to new generations," added the IOC president.
"We have brought together a record number of National Olympic Committees to participate.
"We are embracing these new horizons. We offer our hand to everybody to join forces in this faith in the future."
The Winter Paralympics begin in South Korea on 9 March.
Analysis – 'Korea have done amazingly well'
Four-time Olympic rowing champion Sir Matthew Pinsent on BBC TV
I think Korea have done amazingly well. I think the re-unification idea was great and well executed.
It was such a cherished part of their bid. An idea that for 16 days they would join – North and South – and it has come to fruition. If there's anything to take from these Games, that will be it.
GB athletes 'show potential' for Beijing
Britain surpassed their efforts at Sochi 2014 and Chamonix 1924, with snowboarder Morgan – who was Team GB's flag bearer at the closing ceremony – clinching the record-breaking British medal.
Team GB's chef de mission Hay said, as well as the medallists, British athletes had shown their potential to compete in four years' time at the Beijing Games.
"Five medals is a great haul for us," he told BBC Sport.
"There have been a number of close shaves with a few fourth places and a number of top 10s – but actually that's really encouraging.
"It's not all about medals. Obviously it's a benchmark and people will judge us on that, but it's about looking at people to do personal bests and youngsters to come through and see the potential for Beijing."
Hay tipped the men's curling team, who finished fifth, and 21-year-old alpine skier Laurie Taylor as "ones for the future".
However, with the women's curling team narrowly missing out on a bronze, that sport failed to secure the minimum target of one medal set by UK Sport.
Elise Christie was tipped to collect at least the one medal minimum set for Britain in the short track speed skating, but the triple world champion fell in the 500m final and 1500m semi-finals, and was disqualified from the 1,000m heats.
Meanwhile, on the back of £5m funding, the men's four-man bobsleigh team missed their minimum target of a fifth-placed finish to come eighth – which was matched by the women's pair, who crowdfunded £40,000 to help them compete at the Games.
"There was a lot of hope on the shoulders of Elise Christie and Eve Muirhead's curling team and sadly it wasn't to be," Hay told BBC Radio 5 live.
"They will be very disappointed but I'm proud of the way they played and they are great ambassadors for us. They are young and they will be back again, I'm sure.
"We come away from the Games as the most successful British team ever – so overall it's very positive."
UK Sport funding and medal targets
Sport
Funding
Min-max medal target (medals won)
Best position achieved
Curling
£5.65m
One-two (zero)
4th, 5th
Ski and snowboard
£5.14m
Two-three (two)
Two bronze
Skeleton
£6.55m
Top-eight finish – one medal (three)
Gold, two bronze
Bobsleigh
£5m
Top five – one (zero)
Eighth
Short-track speed skating
£4.76m
One-two (zero)
Fourth
Figure skating
£1.23m
Top eight-one (zero)
11th
Overall:
£28.35m
Five medals won
One gold, four bronze
Chair of UK Sport Dame Katherine Grainger said Team GB did "a brilliant job".
"Off the back of it we have seen two weeks of phenomenal sport, there is a real interest from the British public and people do like to see us successful," Grainger told BBC Sport.
"There is a lot of investment gone in, we've seen success after success, and now there's a criticism of 'are we giving too much?'.
"What does everyone want? What is best for the country? There is an amazing reaction from people who see the Olympic Games – people get very engaged, united and inspired by it, go and do activities because of it.
"When you try and put a number on 'is it worth the values we see', it's so much more complicated than 'that medal cost that much' or otherwise. It's buying into a huge system of sport across many countries."
Norway set record medal haul
Team Norway's trip to South Korea was an overwhelming success, setting the record for the most medals won at a Winter Olympics with 39 in Pyeongchang – topping USA's previous benchmark by two.
Norway, alongside Germany, also equalled the record for most gold medals at a Games, matching Canada's 14 from Vancouver eight years ago.
And the final gold of the Games went to retiring Norwegian great Marit Bjorgen, who became the most decorated Winter Olympian of all time with five medals to take her overall tally to 15.
"It's amazing to win this many medals and something to be proud of," said Norway's chef de mission Tore Ovrebo.
"But we must keep raising the bar and find new challenges for the future."
South Korea enjoy best Games
Things went smoothly for the South Korea team on home soil, as they racked up their record number of medals at a Winter Olympics.
The hosts bettered their previous record of 13 medals at Vancouver 2010 by three to finish seventh in the medal table.
Several sporting heroes were born for the host nation as they claimed three short track speed skating titles and a speed skating gold, while 'Iron Man' Yun Sung-bin became the first athlete from outside Europe or North America to win a skeleton gold.
And then there were "the Garlic Girls" – South Korea's accidental superstars, who earned the country's first curling medal with silver after losing to Sweden in the women's final.
Two golds, two failed doping tests
Russia were banned from the Winter Olympics in Pyeongchang because of state-sponsored doping at their home games in Sochi four years ago.
However, a team of 168 Russian athletes who were deemed to be clean were invited by the IOC to compete as neutrals.
The Olympic athletes from Russia (OAR) team were not allowed to parade under the Russian flag at the closing ceremony following two doping violations.
Alexander Krushelnitsky won bronze in the mixed curling but was stripped of his medal after being found guilty of doping, while Nadezhda Sergeeva, who competed in bobsleigh, was banned on Saturday.
However, the country's Olympic ban could be lifted now the Games have finished.
OAR ended Pyeongchang 2018 with two golds and a total of 17 medals.
Fifteen-year-old Alina Zagitova took the first, becoming the youngest gold medallist at the Games when she won the figure skating singles event, before the men's ice hockey team beat Germany in the gold-medal match on the final day.