Winter Olympics: Bobsleigh provides platform for black women to inspire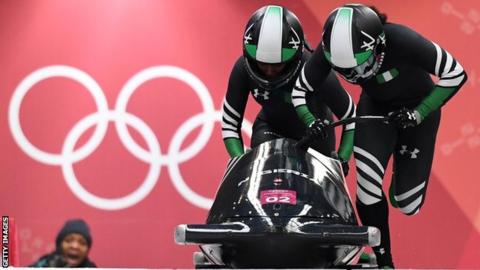 XXIII Olympic Winter Games
Venue: Pyeongchang, South Korea Dates: 9-25 February
Coverage: Watch live on BBC TV, Red Button, Connected TVs, BBC Sport website and mobile app.

Full coverage times
In 2002 at Salt Lake City, 78 years after the first Winter Olympics took place, American Vonetta Flowers achieved something that had never been done before.
Flowers, alongside Jill Bakken in the two-woman bobsleigh, became the first black athlete to win a gold medal at the Winter Games.
Sixteen years later at Pyeongchang, and it is in the bobsleigh where black athletes are again setting new benchmarks and proving to be role models.
The Nigerian pair of Seun Adigun and Akuoma Omeoga may have been the slowest of 20 sleds after Tuesday's first two heats, but they became the first women to represent an African nation in the sport.
"It was every bit as special as we hoped it would be," Adigun told BBC Sport.
"With more time and more preparation and funding I think we're proving that we can be as competitive as everyone else."
'It is going to open doors'
Former world champion Nicola Minichiello says competing at a first Games was never about winning a medal for Nigeria, but the significant step taken by an African nation.
"It is going to open doors, it is going to provide opportunities for people who perhaps before didn't think it was a possibility," the three-time British Olympian told BBC Sport.
"You don't need a bobsleigh track to take part in bobsleigh. The likes of Jamaica, Nigeria, any team really, can get involved and take part.
"That's not going to happen without these role models, without these people who look like them, sound like them, are from the same places as them being able to take part – it inspires young people to think 'that could be me'."
Jamaica's women 'breaking barriers'
The first appearance at a Winter Olympics by Jamaica men's bobsleigh team in 1988 may have inspired hit movie Cool Runnings, but the women's debut has thrown up enough drama for a potential sequel.
Their participation was under threat after the departure of coach Sandra Kiriasis, but they eventually competed in a sled donated by beer producers Red Stripe.
They sit 18th after two runs, but pilot Jazmine Fenlator-Victorian says the experience is about "breaking barriers".
"I know there's things to improve – runs will never be consistent," she told BBC Two. "I know there is a bigger picture out there.
"I am hoping to build upon it in the future. That's why barriers are there to be broken."
'I got so much love from African-Americans'
Flowers may have become the first black athlete to win a Winter Olympics gold medal in 2002, but the USA team at the 2018 games is still predominantly made up of white athletes.
Apart from in bobsleigh, that is, where only two of the nine athletes in contention to make the women's squad for Pyeongchang were white.
The American sleds sit second and fourth heading into Wednesday's final runs, and both feature black athletes.
Brakewoman Aja Evans earned bronze in Sochi four years ago, but knows representing the American team as a black woman is about much more than making the podium.
"I definitely feel like I've taken on more of a role model case just from pursuing these Winter Olympic Games and my career in bobsled," the 29-year-old told People.
The Chicago-born athlete was a five-time All-American shot putter for the University of Illinois before taking up bobsleigh.
"My mom has groomed me to just be a strong woman regardless," she added. "So whatever I went for I kind of went at it full-force and wanted to dominate and perform well.
"When it came to bobsled, I just went in with the same mentality that I went into everything else.
"I ended up getting so much love and feedback from African-American men and women across the world and how much I inspired them through my journey."