Winter Olympics 2018: Court overturns life bans given to Russian athletes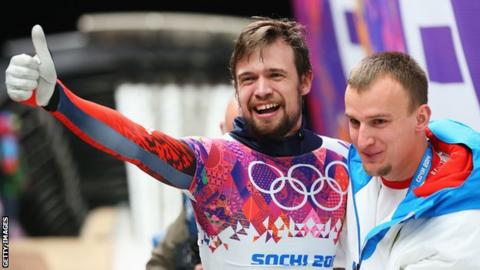 XXIII Olympic Winter Games
Venue: Pyeongchang, South Korea Dates: 9-25 February
Coverage: Watch live on BBC TV, Red Button, Connected TVs, BBC Sport website and mobile app.
A decision to overturn the Olympic life bans of 28 Russian athletes "may have a serious impact on the future fight against doping", says the International Olympic Committee (IOC).
The Court of Arbitration for Sport (Cas) overturned the IOC suspensions – for doping at the 2014 Winter Olympics – partially upholding 11 other appeals.
Cas said that in 28 cases evidence was "insufficient" to prove doping.
The IOC said it would consider its own appeal to the Swiss Federal Tribunal.
Cas said that for the 11 athletes whose appeals had been partially upheld, evidence "was sufficient to establish an anti-doping rule violation" had taken place.
It said they would be "declared ineligible" for this month's Games "instead of a life ban from all Olympic Games".
The IOC said that the Cas ruling "does not mean that athletes from the group of 28 will be invited" to this month's Games in Pyeongchang.
It expressed its "satisfaction on one hand and disappointment on the other" at Thursday's decision, made eight days before the 2018 Winter Olympics begin in South Korea.
"On the one hand, the confirmation of the anti-doping rule violations for 11 athletes because of the manipulation of their samples clearly demonstrates once more the existence of the systemic manipulation of the anti-doping system at Sochi 2014," a statement added.
"On the other hand, the IOC regrets very much that – according to the Cas press release – the panels did not take this proven existence of the systemic manipulation of the anti-doping system into consideration for the other 28 cases.
"This may have a serious impact on the future fight against doping.
"Therefore, the IOC will analyse the reasoned decisions very carefully once they are available and consider consequences, including an appeal to the Swiss Federal Tribunal."
Britain in line for another bronze?
The Cas decision makes it likely that Britain's four-man bobsleigh team from Sochi will be upgraded to a bronze medal.
John James Jackson, Bruce Tasker, Stuart Benson and Joel Fearon finished fifth, but the IOC disqualified two Russian sleds who finished first and fourth following re-examination of the doping tests conducted at the time.
Athletes from both Russian sleds were included in the 11 whose doping violations were confirmed by Cas.
The IOC is yet to officially reallocate the medals from that event, but if confirmed it would raise Britain's medal count to five and make Sochi 2014 their most successful Winter Olympics.
Jackson told BBC Sport: "Do I feel like an Olympic bronze medallist? I think it's starting to sink in, but I think once we have the medal it will feel more real.
"It's been a long waiting game since the McLaren report came out to get to a decision. I wasn't expecting the final outcome of the 28 appeals being upheld, but always thought a life-time ban wouldn't be upheld either way."
'A get out of jail free card'
Cas said it considered testimony from experts including former Russian anti-doping official and whistleblower Dr Grigory Rodchenkov and Canadian lawyer Professor Richard McLaren, who authored a damning 2016 report into doping in Russia.
A statement from Dr Rodchenkov's lawyers said: "This panel's unfortunate decision provides a very small measure of punishment for some athletes but a complete 'get out of jail free card' for most.
"The Cas decision only emboldens cheaters, makes it harder for clean athletes to win, and provides yet another ill-gotten gain for the corrupt Russian doping system generally, and [President Vladimir] Putin specifically.
"Clean sport is dead. The Cas decision proves that certain countries can get away with anything and everything. Today's decision will forever stand as the low point in sports integrity."
How many Russians were banned and why?
In total 43 Russians were banned for life from the Olympics following the conclusion of an IOC investigation into evidence of state-sponsored Russian doping at their home Games in Sochi in 2014.
Bobsleigher Maxim Belugin was the only athlete not to lodge an appeal with Cas, while three other cases – biathletes Olga Zaytseva, Olga Vilukhina and Yana Romanova – have been "suspended".
The IOC investigation – known as the Oswald Commission, tasked with looking into individual cases of doping – was opened following the findings of the McLaren report.
The McLaren report said Russian athletes benefited from a state-sponsored doping programme between 2011 and 2015, speaking of "a cover-up that evolved from uncontrolled chaos to an institutionalised and disciplined medal-winning conspiracy".
The IOC also set up another investigative body – the Schmid Commission – to investigate this wider evidence of institutional doping.
As a result it banned Russia from competing in Pyeongchang, but 169 Russians have since been invited to take part as neutrals.
'A puzzle' and 'circumstantial evidence'
In November, the IOC described the "puzzle" of investigating something that was "by nature and purpose elusive" as it published decisions explaining its first wave of Russian bans.
With reference to Alexander Legkov, one of two Russian skiers banned on 1 November, the IOC said the athlete had "sought to argue that no evidence could be drawn from the McLaren report" but it had "come to a different conclusion".
It said that the authority of the report's findings was "unquestionable" and it "can and will rely" on its findings.
Legkov is one of the 28 athletes whose suspensions were overturned by Cas on Thursday.
In the statement explaining its decision, Cas said its mandate "was not to determine generally whether there was an organised scheme allowing the manipulation of doping control samples in the Sochi laboratory".
It said it was "strictly limited to dealing with 39 individual cases and to assess the evidence applicable to each athlete on an individual basis".
Cas secretary general Matthieu Reeb said there was only "circumstantial evidence" that supported individual claims of doping.
He added: "It is a matter where there is no direct evidence, such as positive test or a voluntary admission.
"This does not mean that the 28 athletes are declared innocent, but due to insufficient evidence the appeals are upheld, the sanctions annulled and their results in Sochi are reinstated."
'We expect to compete' – reaction in Russia
Russian Sports Minister Pavel Kolobkov said: "Our guys and all of us are happy that justice has finally triumphed. Today's rulings confirm that many of those who were accused are clean athletes."
The Interfax news agency quoted Russian Olympic Committee head Alexander Zhukov as saying: "We are simply happy now that the court has restored the athletes' good name and returned their awards."
Interfax also quoted Kolobkov as saying: "The athletes who fought for their rights have finally won, and are, naturally, happy and looking forward to continuing their careers.
"They expect the International Olympics Committee to accept the Cas ruling and allow them unconditional rights to take part in the upcoming Olympic games."