Windrush: Theresa May hits back at Labour over landing cards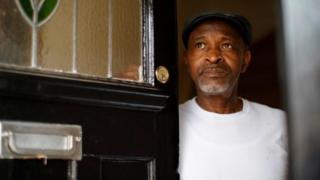 Home Secretary Amber Rudd should "consider her position" over the "misery" caused to Windrush migrants, Labour's shadow home secretary says.
"So many things have gone wrong," Diane Abbott told BBC Radio 4's Today programme, and Ms Rudd should take responsibility for them.
She accused Ms Rudd of withholding information about how many people have been wrongly detained or deported.
The government has apologised to those affected.
And it has set up a task force to prevent the children of first generation Commonwealth migrants from being deported because they haven't got the right paperwork.
Some have lost their jobs and access to NHS services, or been detained in immigration detention centres, because a change in the law means they have to prove they have been living in the UK, even though they have been in the country legally for decades.
And it has now emerged that documents that had been used by officials to help establish when people arrived in the UK were destroyed by the Home Office in 2010.
The landing cards, which were filled out by Commonwealth migrants arriving in the UK, a process which began with the Empire Windrush ship in 1948, had been stored in the basement of an office in Croydon.
But they were "disposed of" during an office move to comply with, the Home Office says, data protection laws.
The Home Office says the cards were not definitive proof of continuous residence in the UK – it says things like employment and school records were a more reliable method.
The children of Commonwealth citizens who arrived with their parents in the UK were automatically granted leave to remain up to the early 1970s.
But they would lose that right if they left the country for more than two years, and the Home Office has been demanding multiple documents to prove residence rather than, say, accepting as proof HMRC records showing that someone had paid tax each year in the UK.
Ms Abbott said the criteria used by the Home Office to establish continued residency was "arbitrary" and officials should be allowed to use their own discretion to decide on cases.
"There should be a group exemption for people who fall in this category – a group of Caribbean migrants who came here as children," said Ms Abbott.
And she said it was "extraordinary" that the home secretary had not taken responsibility for the scandal and blamed officials.
"It is not a new situation. It has been going on for years. She has information about who was deported and who was in detention and she needs to make that information public," she told Today.
"This has caused so much misery and ruined so many people's lives."
Are you a member or descendant of the Windrush Generation – or did you arrive in the UK from another Commonwealth country as a minor between 1948-1971? We'd like to hear from you via email haveyoursay@bbc.co.uk.
Please include a contact number if you are willing to speak to a BBC journalist. You can also contact us in the following ways: