Windrush: Sixty-three people may have been wrongly removed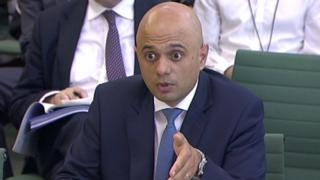 Sixty three members of the Windrush generation could have been wrongfully removed or deported from the UK since 2002, the home secretary has said.
Sajid Javid told the Home Affairs Select Committee 32 were foreign offenders and 31 people removed by officials, rather than a court order.
He said the figures were provisional.
It was the first time specific numbers have been outlined since the scandal involving people who came to the UK from Commonwealth nations broke.
Labour MP Yvette Cooper, who chairs the home affairs committee, said there were many "unanswered questions".
"It is shocking to find that 63 people may have been wrongly removed or deported and troubling that they have not yet been contacted," she said.
The Windrush migrants arrived between the late 1940s and 1973, mainly from the Caribbean, but some have been threatened with deportation in recent years. Many came to the UK legally as children but have no formal documentation, which has also led to them being refused jobs or healthcare.
Mr Javid said the 63 cases he outlined were identified from 8,000 records of removals from the UK of people aged over 45.
He told the committee: "I've asked officials to be absolutely certain and thorough and check over every record and make sure."
The home secretary said he did not have information on how many Windrush immigrants had been detained.
He denied that there was a "systemic" problem in the Home Office, but said in the Windrush cases people had faced "too large a burden" in proving they had lived in the UK for many decades.
In a letter to committee chair Yvette Cooper, Mr Javid said a helpline set up after the Windrush cases emerged had received more than 11,500 calls. More than 4,482 of these were identified as possible Windrush cases. So far 526 people have now received documents confirming their right to be in the UK.
Prime Minister Theresa May has announced a government review to understand how members of the Windrush generation "came to be entangled in measures" designed to tackle illegal immigration.
Writing on Twitter, Labour MP David Lammy said Mrs May – a former home secretary – needed to come to Parliament to explain how the 63 people were removed, describing the revelation as "truly a day of national shame".
Mr Javid became home secretary last month after Amber Rudd resigned, saying she "inadvertently misled" MPs over targets for removing illegal immigrants.
The scandal had heaped pressure on Ms Rudd, who faced criticism after telling the home affairs committee she did not know about Home Office removals targets.