Willow Smith reveals she self-harmed as a child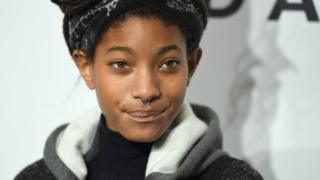 Willow Smith has revealed she "lost her sanity" and used to self-harm as a child.
The 17-year-old said it happened after the exposure of her song Whip My Hair, which was released in 2010 – when she was nine years old.
"After all of that settled down and there was a lull, I was just listening to a lot of dark music and it was just so crazy," she added.
"I was just plunged into this black hole and I was cutting myself."
She told her mum, Jada Pinkett Smith, and grandmother, Adrienne Banfield-Norrison, on the web series Red Table Talk, that she stopped five years ago.
If you need help with issues related to self-harm, you can go to BBC Advice.
Willow said it happened after the hype died down from Whip My Hair and she had just cancelled plans to finish her album.
"I was kind of just in this grey area of like 'Who am I? Do I have a purpose? Is there anything that I can do beyond this?'"
Her mum and grandmother appeared shocked when she told them.
Explaining why she turned to self-harm, she said: "I honestly felt like I was experiencing so much emotional pain but my physical circumstances weren't reflecting that."
Willow added: "A lot of adolescent girls struggle with self-harm."
She said her brother Jaden and half-brother Trey didn't know about it and that she only told one friend about it.
"I never talk about it because it was such a short, weird point in my life. But you have to pull yourself out of it."
She says she stopped "one night [when] I was just like 'this is actually psychotic'.
"And after that, I just stopped."
Her mum says she "never saw any signs" her daughter was self-harming.
Willow, who is also the daughter of Will Smith, was thrust into the limelight when she signed to Jay-Z's record label Roc Nation aged nine.
Whip My Hair peaked at number two in the UK and was her most successful single.
She's released two albums so far – 2015's Ardipithecus and The 1st, which was released in 2017.
Organisations for support on self-harm issues
Childline: Self-harm (www.childline.org.uk)
Harmless (www.harmless.org.uk)
Mind: Self-harm (www.mind.org.uk)
The Site: Self-harm (www.thesite.org)
Follow Newsbeat on Instagram, Facebook and Twitter.
Listen to Newsbeat live at 12:45 and 17:45 every weekday on BBC Radio 1 and 1Xtra – if you miss us you can listen back here.