Wife-in-labour birth-dash dad faces speeding fine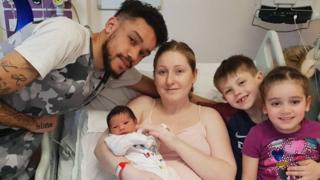 A father is facing a £2,500 fine for speeding along the M5 after his wife went into labour in the passenger seat.
Louis Baker, 30, was driving within the speed limit for "the majority" of the route from his Rubery home to Worcestershire Royal Hospital.
However, wife Laura's contractions "intensified" and he "put his foot down", clocking up 101 mph, Birmingham Live reported.
West Mercia Police said he faced a £2,500 fine and six penalty points.
Mr Baker, who is a factory worker at Jaguar Land Rover, said: "I just didn't want my wife and unborn son to die at the side of the road."
Mrs Baker, a trainee pharmacy technician, had visited the hospital earlier on 14 April after experiencing contractions. When they stopped she was discharged.
But during the evening the contractions returned and the pair began the drive back to the hospital.
You may also like/be interested in:
Mrs Baker said: "We were fine, sticking to the speed limit for the majority of the journey, then I suddenly felt like I had to push and I knew I couldn't give birth at the side of the road, so Louis put his foot down."
Baby Ellis had stopped growing at 36 weeks and his mother is a carrier of streptococcus B. The couple's previous child Nyla, four, had been born in just 11 minutes.
Mr Baker said we was waiting to receive a court date for his case.
Mrs Baker said: "We're not saying we don't deserve a fine, we were speeding, but we just hope that the judge understands."
A spokesperson for West Mercia Police said: "Due to the speed involved this case is being referred directly to the magistrates' court.
"Magistrates will take into account any mitigation when determining their decision."