Why the snobbery about superhero films?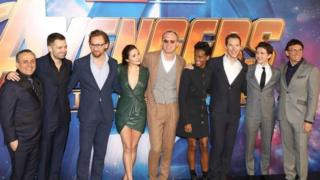 Stars of Avengers: Infinity War have defended superhero films against snobbery from some Hollywood quarters.
Last week, Zoe Saldana spoke about "elitists" who accuse the cast of "selling out" with the films.
"I've been in rooms with people in this industry who are great at what they do, but they're absolutely elitist.
"They look down at movies like the Marvel films or actors like myself," the actress, who plays Gamora, in the Marvel universe said.
Fellow Avengers actor, Josh Brolin, has also chimed in saying actors "totally" turn their noses up at superhero roles.
'Avenger fatigue'
But it's not just elitism that's a problem. Some Hollywood greats think there are just too many superhero films these days.
Avatar director James Cameron told Indiewire at the weekend: "I'm hoping we'll start getting Avenger fatigue here pretty soon.
"Not that I don't love the movies. It's just, come on guys, there are other stories to tell besides hyper-gonadal males without families doing death-defying things for two hours and wrecking cities in the process."
And that's from the director behind Terminator and Avatar.
Jodie Foster told Radio Times earlier this year: "Studios making bad content in order to appeal to the masses and shareholders is like fracking – you get the best return right now but you wreck the earth. It's ruining the viewing habits of the American population and then ultimately the rest of the world. I don't want to make $200m movies about superheroes."
And last year, Star Wars actor Mark Hamill told USA Today: "I don't know what's going on with superhero movies. They're fantastic, but I think we're reaching a point of over-saturation. So that's why the story is so important, is that the gimmicks and all that, they can only take you so far. That's what I want, better stories."
But superhero stars believe those views are unfair and there is more to the genre than meets the eye.
"A younger audience deserves entertaining but they also deserve inspiration and strong messages of hope and dreams and a great sense of justice," Saldana told Net-a-Porter.
Fellow star Chris Pratt concurred: "I think the platform and the opportunity to use the powers that superheroes have over the imaginations of kids has been the most rewarding for me."
More than a 'popcorn movie'
Other superhero films have also gone beyond the entertainment factor, of course.
Recent Marvel hit Black Panther is a superhero film with a black cast, and has been widely praised as game-changing by the likes of Michelle Obama.
Letitia Wright, who plays Shuri in the film, told the Press Association: "We get to have fun and put out entertaining movies but throw subject matters in there that we can really think about as a society and really make us reflect on ourselves."
And Vision actor Paul Bettany pointed out that Captain America: Civil War (2016) "talks about whether a superpower should be able to unilaterally enter another country. That's a large thing to talk about in a popcorn movie."
Film journalist Helen O'Hara says the snobbery about superhero films is unwarranted.
"There is a snobbery but generally they [superhero movies] have been quite good films on average, particularly the Marvel ones.
Unlike Saldana, O'Hara believes any elitism perhaps comes from the industry itself and some directors, rather than actors.
"[There's only been] one [main] Oscar winner (Heath Ledger for The Dark Knight in 2009) – and not that he didn't deserve it, he did but he probably wouldn't have got it if he hadn't died."
She thinks some directors "may be bitter" about superhero films because "they can't raise the money" for their own films, adding "and critics are always sniffy about certain films".
O'Hara says: "Most actors would be happy to be in a superhero film. They have Oscar winners and nominees lining up!"
Think Jennifer Lawrence, Christian Bale, Halle Berry, George Clooney, Jack Nicholson, Natalie Portman and Gwyneth Paltrow, to name but a few.
But does O'Hara think there is over-saturation within the genre?
"I think they take up a lot of oxygen in terms of publicity, advertising spending etc. but they're not actually that numerous. In a very big genre, there are only 10 films out this year," she points out.
We asked members of our Facebook group what they thought.
"I'm a big fan of the old superhero flick, but there are so many of them. Glad to see another Deadpool having a laugh with the genre. There should be a ban on copying/reimagining such films for at least 20 years though (Spiderman I'm looking at you!)," wrote Arthur Strain.
Maria Sandra Contreras said: "I think they're awesome, especially the Marvel Cinematic Universe movies, they've done great so far and I am super excited to see Infinity War this week. The Avengers movies appeal not only to adults but to kids as well who are happy to see their favourite superheroes come together to 'beat the bad guys' and save the world.
"It inspires them. Kudos to Marvel Studios for creating great superhero films that people of all ages can enjoy together."
'Comic cash cow'
Andy Davis takes a more cynical view: "I've been bored of them for years. Ever since the terrible Ironman 3, Marvel just seems to treat their comic archive like a cash cow. As for Batman Vs Superman, I'll add that with Alien Versus Predator."
Den of Geek founder Simon Brew says there has always been snobbery about popular genres, in the same way there is about TV's soap operas.
"Where there is popularity, there is snobbery – in the 50s and 60s it was Westerns, in the 80s it was action films and in the 90s it was science fiction."
Like O'Hara, he agrees that superhero films have become much better in recent years.
"The turning point was X-Men in 2000, they consistently got really good."
Regarding James Cameron, Brew said: "He may not have phrased it very well but there is something to what he says – if you're trying to make a blockbuster that isn't a superhero film, you're going to struggle."
But Facebook poster, Andrew McCallister, took a different view on Cameron's comments: "I think James Cameron hopes people get sick of superhero films so they will go and see his six Avatar films that no one asked for!"
'Squeezed out'
Richard Edwards, editor of SFX magazine concedes there have been a lot of superhero films in recent years and while many of them have been huge successes – like Black Panther and Wonder Woman – some, such as DC's Batman vs Superman, have not fared so well.
But he too acknowledges that the genre has largely improved over the past few years, with the rise of increasingly sophisticated special effects and filmmakers "spending time on scripts… not just action".
He does have a concern though, believing that the big superhero blockbusters have "squeezed out mid-size movies… I'm not sure we'd still get The Matrix now, which was an entirely original franchise. I'm not sure a studio would take a punt on that now."
Ultimately, the likes of Marvel and Disney probably don't care about any criticism, with films such as Marvel's The Avengers (2012), Captain America: Civil War (2016) and Black Panther (2018) each breaking the $1bn barrier.
And Avengers: Infinity War, out on Wednesday, could be next.
Join the conversation on our Facebook group. It's a place to chat about everything we're watching at the moment, as well as discuss the big issues in the entertainment world.
Follow us on Facebook, on Twitter @BBCNewsEnts, or on Instagram at bbcnewsents. If you have a story suggestion email entertainment.news@bbc.co.uk.