Why Serena Williams is a real life superhero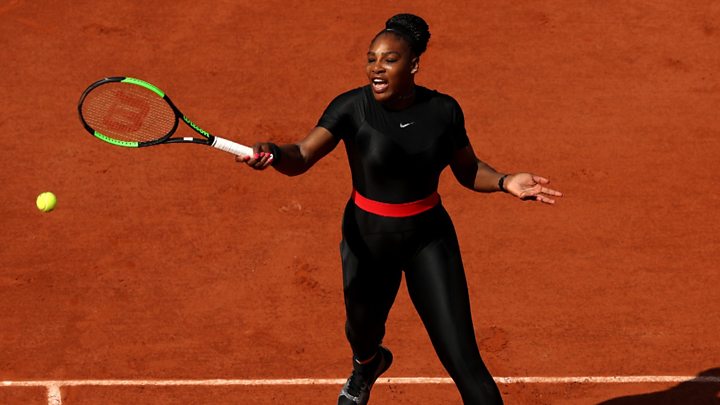 Serena Williams had every reason to feel like a "superhero" on Tuesday.
Wearing a black catsuit, which made her feel like "a queen from Wakanda", the 23-time major winner won her first Grand Slam match since giving birth.
"I always wanted to be a superhero, and it's kind of my way of being a superhero," she said.
Not even the 25C weather (nor the fact she'd given birth just nine months prior) were enough to stop her win.
So if Serena truly is a real-life superhero, what are her most impressive superpowers?
Invincibility
It's hard to deny that an athlete who's won 23 Grand Slam titles is pretty much invincible.
Serena has been ranked world number one eight times by the Women's Tennis Association and named Laureus Sportswoman of the Year four times.
Perhaps the best example of her invincibility is in her longstanding rivalry with Maria Sharapova.
Serena has beaten the Russian tennis player 16 times in a row since 2004.
Resilience
Serena Williams has experienced both racism and sexism in her career.
In 2017, former professional tennis player Ilie Nastase was heard making a derogatory comment about Serena's unborn child, asking: "Let's see what colour it has. Chocolate with milk?"
In the same year, retired tennis player John McEnroe said Serena was "the best female player ever", but argued "if she played the men's circuit, she'd be like 700 in the world".
Shortly after she tweeted that while she "adores and respects" him, he should "keep me out of your statements that are not factually based".
Skip Twitter post by @serenawilliams
Dear John, I adore and respect you but please please keep me out of your statements that are not factually based.

— Serena Williams (@serenawilliams) June 26, 2017
End of Twitter post by @serenawilliams
Omnipresence (she's everywhere)
As one of the few celebrities to attend the royal wedding as a close friend of the Duchess of Sussex, Serena seems to be everywhere and know almost everyone.
At her own wedding last year, celebrity guests included Beyonce, Jay-Z, Ciara and Kim Kardashian.
Serena even appeared in the music video for Beyonce's Sorry in 2016 and recently launched her own clothing line.
Super Strength
When Serena posted a picture on Snapchat revealing a pregnancy bump with the caption "20 weeks" (and then swiftly deleted it), many were left in shock.
It didn't take long for fans to work out that she'd been eight weeks pregnant at the end of January, which meant she won the Australian Open for the seventh time while expecting a baby.
"If anything, this pregnancy has given me a new power," she told Vogue magazine last month.
After her win at the French Open yesterday, she tweeted a picture of her at the tournament with the caption: "For all the moms out there who had a tough recovery from pregnancy – here you go."
"If I can do it, so can you."
Follow Newsbeat on Instagram, Facebook and Twitter.
Listen to Newsbeat live at 12:45 and 17:45 every weekday on BBC Radio 1 and 1Xtra – if you miss us you can listen back here.