Why Ruth Wilson is having an identity crisis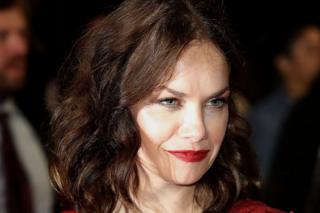 Actress Ruth Wilson is something of an enigma.
As a critically acclaimed star of TV's Luther and The Affair, and multiple Broadway and West End shows, she's no stranger to success.
Saving Mr Banks and Suite Francaise are just two films on her CV. And she's been thought cool enough for pieces in Vogue and Vanity Fair.
Yet, for many, Wilson's face is still more recognisable than her name.
In fact she's probably better known as either Alice or Alison, the (bizarrely) recurring character names she's often given on screen.
With this comes the blessing of not being "papped" – photographed by paparazzi – says Wilson. And overall, her attitude to this relative anonymity is sanguine.
"People know my characters like Alice Morgan in Luther or Alison Bailey from The Affair. For me that's a compliment, a kind of joy," she says.
"But me as me is not really known, I don't have a persona in the public's knowledge.
"There's a sense most notably with my movies that for people to turn up, and make them big, you have to have a celebrity status. But it's not a choice I've made. It comes to you."
Wilson says she chooses her films for artistic merit rather than their action-packed bums-on-seats credentials – which means they're mostly small independents.
"It's frustrating. But it's about where you position these independent films to find an audience.
"The whole film industry has changed so much that few people are turning up for this stuff. Kids and adults want more to go to Marvel movies."
True to type, her latest venture is Dark River, a title taken from a Ted Hughes poem.
It's dark by name and dark by nature. She's previously joked that it is a British version of The Revenant. And again, Wilson's character is called Alice.
"I'm being haunted!" she exclaims.
But there's nothing to joke about here. "Haunted" is apt for the story of violent sibling rivalry, child sex abuse and financial struggle, all set amid the farming world of the imposing but often hostile North Yorkshire hills.
With her father's death, Alice returns to claim the tenancy on the family farm she hasn't seen in 15 years.
Her brother's been struggling to keep the crumbling farm, sheep business and their sick dad alive.
Alice's return ignites a seething cauldron of anger and resentment between the siblings, each with conflicting ideas about how the farm should be run.
Adding to the fire are the tormenting memories of the father's abuse of the young Alice. They lurk behind every corner.
Working life on the farm is as hostile as the terrain. We see the physical and mental strength Alice exerts – to eat, she has to kill, skin and gut her catch (a skill Wilson learned on YouTube).
Wilson experienced the realities of rural life for herself – the six-week location shoot followed three weeks living with a farming family.
"It was grim, but you just get on with it. People do live like that," she says. "But I don't mind physical stuff – I quite like it and being out in the elements."
Alice's strength tips into aggression and there's no mistaking the underlying desperation.
"Alice can't express herself," Wilson explains. "She doesn't really have a voice. She's keeping her trauma and rage over the damage done to her wrapped within. It's in her physicality that she's able to get some of it out."
Though made a long time before the Me Too and Time's Up campaigns, the movie has a deeper resonance in their wake.
Wilson says Alice is an emblem for the strength and bravery of women that has always existed but is now taking the spotlight.
"She represents all the many women who have been abused in the home, and the abuse that is now being uncovered. They are women who have carried on every day with their own demons, each being strong in their personal way."
Away from the film set, Wilson says she's always been known as independent, opinionated and driven within her family. She is one of four children, the others being boys. They went into teaching or journalism. She followed a different path.
"I've been thinking a lot about this recently and how my upbringing made me more independent," she says.
"I wasn't treated any differently. There were no luxuries or special treats. And I wasn't put in pretty dresses, but hand-me-downs from the boys.
"It made me a tomboy, more able to keep up with them. It's only when you enter the real world you realise there's a lack of parity elsewhere."
On the red carpet, she seems impeccable in Prada or the like. But Wilson says it's all part of the celebrity game.
"Clothes are amazing but I'm not that into them! I'm curious about them and love fashion, some of it's like a piece of art. So if you get an opportunity to wear a piece, as we do in this industry, wear it. It's amazing."
She uses a stylist to "take the time and energy out of it". But there's a problem, she adds: "It's not really your taste. It's more what's going to get in the papers and magazines.
"This too is part of the systemic problem – we all have to be knowledgeable about how much we're complicit in that and objectification of women. The fashion takes away from you as an artist."
Complicity, or rather lack of it, is something that looms large in Wilson's family heritage.
In a tale straight out of an Ian Fleming book, her grandfather – an MI6 agent and writer of 23 spy novels himself – was discovered posthumously to have been a polygamist.
He had four "wives". None knew of the others. He didn't "divorce" any and had children with each.
Wilson's grandmother, number three, wrote a memoir, which Wilson is getting published. She's also set to play her in a TV drama adaptation of the story.
There's just one problem – her grandmother's name was Alice.
"I don't think I can take another role with either the name Alice or Alison, after this that's it. It's just too weird!" says Wilson.
Well, maybe. Wilson is definitely returning as Alison Bailey in the fourth season of The Affair in June.
Meanwhile, the resurrection of Luther's (supposedly dead) sociopathic physicist Alice Morgan is shrouded in mystery.
Pictures of Wilson back on set have featured in the papers, accompanied by the obligatory excited headlines. So what's the truth?
"It's not what it seems! Is it a dream sequence? Ah well, maybe. It's all under wraps," says Wilson.
As for co-star Idris Elba – he of the surprise public marriage proposal – "he's every bit as charming as he seems".
Dark River is out in the UK on 23 February.
---
Follow us on Facebook, on Twitter @BBCNewsEnts, or on Instagram at bbcnewsents. If you have a story suggestion email entertainment.news@bbc.co.uk.