Why high-flying professionals choose to be teachers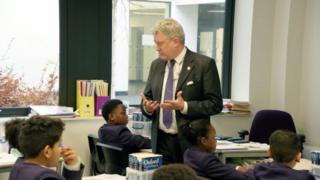 High-flying professionals are swapping their career for the classroom under a new scheme for challenging secondary schools. Could it be the answer to the UK's "teaching shortage"?
"I've gone from being at the top of my game and being very capable and knowing what I'm doing, to not having a clue," Dr Simon Harkin, 59, told the BBC's Victoria Derbyshire programme.
He has just started working as an English teacher at Ark All Saints Academy in south-east London.
The role is part of a new scheme, Now Teach, which has placed 46 trainees into challenging London secondary schools.
It is a far cry, however, from his previous role, in the civil service, where he served in Europe, South America and Africa – and worked for the Queen.
"Working in the royal household at Balmoral was a great privilege," he says, while being deliberately coy about exactly what his job entailed, and which members of royalty he knew.
"I worked in the Master of the Household's Office, which is the bit of the household which actually runs the thing."
Simon also opened the British embassy in the Ivory Coast and was given an award by the UK government for his work in helping to tackle the Ebola outbreak in West Africa.
But however vast his expertise in his previous line of work, teaching has been a wake-up call.
'Wobbling around'
"My IT skills are embarrassingly poor, so I have to work out how to do things from scratch," he says.
"My class are looking to me for guidance and leadership and to show them what to do and how to do it. And if I'm wobbling around and not quite sure what I'm doing, they pick that up very quickly, even unconsciously. It's alarming."
Simon says he decided to take up the challenge of teaching in the hope he could help address what an Education Select Committee described as a "significant teacher shortage" in England earlier this year.
"I've come to the end of a fascinating career, and I thought, 'If I retire and do nothing, all that's gone to waste.'"
The Department for Education says there are currently record levels of teachers, and that it is investing £1.3bn until 2020 to attract more teachers.
If successful in his year's on-the-job training, Simon will become a qualified teacher.
For the school's head teacher, Lucy Frame, recruiting people later in life – from different lines of work – is a valuable new approach.
"[Simon] has had lots of different experiences in life, which means that when he sees a problem, he is looking at it from different aspects, which brings a gravitas and confidence in dealing with things."
'A different audience'
Lynda Burns has had a similarly stark transition to Simon.
After two week's intensive training provided by the scheme, she is working as a trainee Spanish teacher at Oasis Shirley Park School in Croydon, south London.
It is a very different experience to her former glittering career as a diplomat – most recently being the UK's deputy ambassador to Cyprus.
"I spent about 20 years in the Foreign Office, advising the government, ministers and Number 10 about foreign policy," she says.
Her role would sometimes involve making life-and-death decisions – including once having to manage crisis teams as a plane containing British nationals was taken hostage and diverted to Cyprus.
But Lynda likes to think there are some parallels between her past life and working with children.
"In diplomacy you're dealing with different people around the world, different cultures, and different languages," she says. "You have to find a way to express yourself and make yourself understood.
"With school, I'm trying to do that with a different audience."
She has taken on the role in the hope she can give something back to children in her local community, having spent 20 years trying to do the best for her country.
But is Now Teach the best answer to what critics see as a teaching shortage?
As an untested pilot scheme, it is the children that will pay the price if it goes wrong.
"From day one – from second one – of your lesson you've got eyes upon you waiting for you to take charge of the class, waiting for you to produce a great lesson.
"So although you're learning the job, you have to be credible in front of the children, and I think that's been a major challenge."
Now Teach includes regular feedback sessions with senior – and often younger – members of staff who act as mentors throughout the year.
The children seem to give Lynda the thumbs up.
"I wasn't really good at Spanish last year," says Alfred, in her Year 7 class. "I really struggled a lot.
"But Miss has helped me a lot, and now I'm in a higher set."
Watch the BBC's Victoria Derbyshire programme on weekdays between 09:00 and 11:00 on BBC Two and the BBC News channel.