Why do some Chinese funerals involve strippers?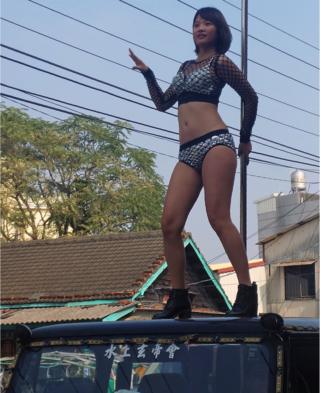 Music blaring through loudspeakers, strippers dancing to the beat and audiences whistling along. In some parts of China, this is what you would see during a funeral procession.
Earlier this year, China renewed a clampdown on strippers performing at funerals, wedding and temples, calling it "obscene and vulgar".
This isn't the first time authorities have tried to get rid of the practice but it has proven resilient.
Why do people hire strippers at funerals?
According to one theory, strippers are used to boost funeral attendances because large crowds are seen as a mark of honour for the deceased.
Another states the practice could be linked to a "worship of reproduction".
"In some local cultures, dancing with erotic elements can be used to convey the deceased's wishes of being blessed with many children," Huang Jianxing, a professor of Fujian Normal University told state-media outlet the Global Times.
One practical theory is that the hiring of strippers could be seen as a sign of wealth.
"Chinese rural households are more inclined to show off their disposal incomes by paying out several times their annual income for actors, singers, comedians and strippers to comfort the bereaved and entertain the mourners," said the Global Times.
Is the practice common?
It is mainly seen in rural parts of China, but it's actually more common in Taiwan – where it first originated from.
"The practice of funeral strippers first caught widespread public attention in Taiwan in 1980," University of South Carolina anthropologist Marc Moskowitz told the BBC.
"It has become fairly common in Taiwan but in China the government has been more restrictive so many people have never even heard of this."
But even in Taiwan, the practice isn't usually seen in major cities.
"Because funeral stripping is in a grey area between legal and illegal activity… it is less common to see it taking place in urban centres, although one often finds the practice in the outskirts of most cities," said Mr Moskowitz.
Last year, a Taiwanese funeral featured 50 pole dancers who gyrating on top of jeeps in the southern city of Chiayi.
The funeral was for a local politician, who according to his family, told them he wanted a colourful funeral "through a dream".
Why the crackdown?
The newest crackdown is hardly surprising. It's just the latest in a series of campaigns over the years by the Chinese government to end the practice of funeral strippers.
China's Ministry of Culture has deemed such performances "uncivilised" and announced that anyone who hires a stripper to entice people to a funeral will be "severely punished".
"China's government envisions itself as being a father figure who needs to guide its citizens," said Dr Moskowitz.
"They worry about public nudity and the influence that this might have on society, especially given that children often see these shows.
However, Dr Moskowitz adds that it might not be so easy to get rid of the practice.
"The fact that it keeps popping up, in spite of laws against it, points to how resilient [it] can be," added Dr Moskowitz.
In 2006, the leaders of five striptease troupes in the eastern province of Jiangsu were detained after hundreds attended a farmer's funeral that saw striptease acts being performed.
In 2015, villages in Hebei and Jiangsu province made headlines on Chinese social media when it was discovered that strippers had been invited to stage "obscene performances" at funerals. The government again punished organisers and performers involved.
The Ministry of Culture's new campaign will target in particular the Henan, Anhui, Jiangsu and Hebei provinces. The government has also set up a hotline for the public to report any "funeral misdeeds" in exchange for a monetary reward.
It's not clear if the practice will ever go away completely, but what is clear is that the Chinese government definitely isn't going to stop trying until it does.