Why 80% of Kodaline gigs end in a wedding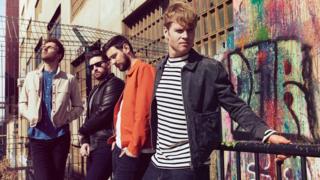 Irish band Kodaline make the sort of soaring, radio-friendly rock that sets hearts a-flutter all over the world – so it's no surprise they've ended up soundtracking hundreds of proposals.
What the band weren't expecting, though, is how often people get engaged at their concerts.
"No matter where we go, somebody will get in touch with the venue to tell us that they either want to propose during a specific song, or they'd like to come up on stage to ask the question," says drummer Vinny May Jr.
"It's not every show, but it's probably 80%."
"The particular song they ask for is called The One," adds singer Steve Garrigan, "which is a song I wrote for my friend as a wedding present.
"He's a bit cheesed off because it's not his song anymore.
"But it is crazy, yeah. We've played it all over the world. Someone got engaged at our show in the Philippines just two weeks ago."
"We also get a lot of requests asking us to play at people's weddings and it's kind of like, 'I don't think we're at that stage,'" adds Vinny.
The ritual came full circle three years ago when the band's bassist, Jason Boland, asked his girlfriend to marry him in the middle of Ed Sheeran's show in Dublin's Croke Park.
Vinny got engaged around the same time – but The One was banned from his wedding reception.
"My parents were like, 'Are you going to play?' and I was like, 'No, it's a night off. We're just going to enjoy ourselves.'"
"I really thought a drum kit was just going to appear," Steve teases his bandmate. "And you'd launch into a huge drum solo and force everyone to watch you."
The dual weddings coincided with a bit of downtime for Kodaline, who rose to fame with songs like High Hopes and All I Want in 2013.
"We needed time to wash the cars," says Vinny. "Real life stuff."
But the quartet returned last week with Follow Your Fire, an atypically upbeat pop song, produced by Top 40 hitmaker Steve Mac (Ed Sheeran's Shape of You, Pink's What About Us).
The band dropped by the BBC to tell us about their "colourful" new sound, busking in America and becoming rock and roll cliches.
Follow Your Fire is a very different sound for you. What's the reaction been?
Steve: We were apprehensive about releasing it, but the reception has been amazing.
What made you want to change things up?
Steve: We didn't want to end up making the same album again. As a songwriter, I'll sit down and straight away I'll write a slow, moody ballad. Steve Mac forced us to get out of our comfort zone and write something new, and the result was Follow Your Fire.
How did he shake you out of the comfort zone?
Steve: He just beat us with a stick.
Ready To Change – which came out on your EP last September – has a similar sound. Did you release that to test the waters?
Steve: To be honest, we spent a long time doing our third album so we were kind of like, "Here, we'd better just release something." We got together a few of the songs we liked and put them out there for the fans.
Was it weird to be away for so long? There was almost no gap between your first and second albums.
Steve: Yeah, we released our first album in 2013, and we pretty much wrote the second album on the road. So we didn't really stop until 2016, when we kind of chilled out for a bit.
Vinny: We all wanted to take a break. Cut the grass and do the dishes.
Steve: It's funny, a couple of years ago all we wanted to do was get out of Ireland. It took us going all the way around the world to realise we absolutely love home.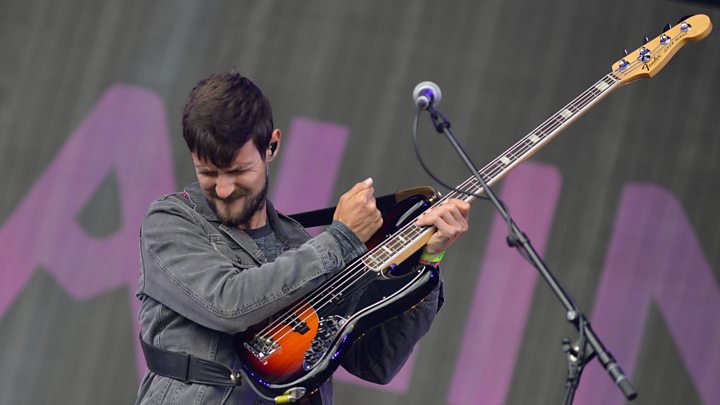 What do you miss the most when you're away from home?
Steve: There's a thing called a chicken fillet roll. It's amazing, you've got to try it. They don't have it in the UK, or anywhere else in the world.
So this is, what, a chicken sandwich?
Vinny: Yeah, southern fried chicken in a sandwich basically.
I'm pretty sure you can get that outside Dublin.
Vinny: You probably can but it's not the same.
Steve: You can pretty much go to any shop, anywhere in Ireland, and you'll get the same chicken fillet roll. It's an amazing thing.
Vinny: So we miss that. That and our families.
Speaking of getting away, you filmed the Follow Your Fire video in Barcelona on a rooftop. That's like a music industry rite of passage that says You Are A Big Deal. The Drifters even wrote a song about it.
Vinny: I know! We've made it now!
Steve: It is almost a cliche but I think the video's cool.
Vinny: We wanted it to be a bit more colourful – with this album, in general, because the music is a bit more colourful.
You've always made interesting videos and All I Want's is a real tear-jerker. Who comes up with the ideas?
Steve: That's a guy called Stevie Russell. He's the guy who plays the "monster" in All I Want – and that's his dog in the video as well.
He's got this talent. I don't know how he does it… He can do what a movie does, but in three minutes. I really hope he goes on to make a full film.
Well, David Fincher started out making music videos for Paula Abdul…
Steve: Really? Wow! You learn something new every day. From Paula Abdul to Aliens. [Alien 3 to be precise.]
Vinny: No correlation there.
When you first played America, you'd go out and busk every city you visited. Which was the most generous?
Vinny: I don't think we ever did that.
Steve: We're not that smart.
Vinny: It's only afterwards we're like, "Dammit, we could have paid for a couple of pints there."
Steve: We just play. Any excuse. We used to play a show, then we'd go to a bar and jump up on the bar and play there all night. It was great craic.
You had to cancel some tour dates last year. Are you all set to hit the road now?
Vinny: Yeah. There was a bit of a false start last year.
Steve: We finished the album, then we un-finished it, then we finished it, then we un-finished it again.
Vinny: But now it's like, "This is the first single off the album and the album will be coming this summer." So new tours are going to be announced all through Europe and America, and then we'll probably be hitting up Australia and Southeast Asia next year.
So you'll really be pining for those chicken fillet rolls.
Vinny: Yeah! We're going to have to fly some in.
Are you at the stage you can do that now?
Vinny: Definitely not.
Why not? Bono once spent £1,000 to get a seat for his hat on a private jet…
Vinny: What?! Did he?
Well, it's probably apocryphal, but the story's been around for years.
Vinny: I wouldn't put it past him but that's outrageous. I don't think we're at that stage yet.
Steve: I'd get a seat for our chicken fillet rolls. Anything for a chicken fillet roll.
Follow Your Fire is out now.
Follow us on Facebook, on Twitter @BBCNewsEnts, or on Instagram at bbcnewsents. If you have a story suggestion email entertainment.news@bbc.co.uk.