Who will change first – Meghan or the Royal Family?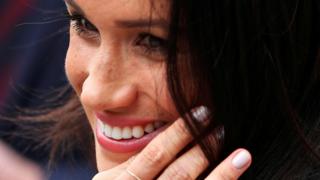 Every royal wedding is different. But every royal wedding is an opportunity, in some way, to relaunch the Royal Family.
Big weddings like this come along pretty rarely and they are now the object of global fascination.
So it represents a great opportunity to say: "This is who the Royal Family are these days."
But this is a very different royal wedding.
It's different because of the style of the arrangements for the day itself.
From small things, like the cake (not a traditional big heavy fruitcake covered with bullet-proof icing), to bigger things, like a gospel choir performing at the service.
To more remarkable decisions, like the invitation to 1,200 members of the public to enjoy the occasion in the grounds of Windsor Castle.
After the death in 1997 of Prince Harry's mother, Diana, Princess of Wales, she was described by the-then Prime Minister Tony Blair as "the people's princess".
This may not be "the people's wedding", but it is about as close to it as any royal wedding has got.
Right from the start, the couple said they wanted to make this a more inclusive event – and they have done a fair bit, by royal standards, to make that happen.
It will look and feel different from the royal weddings that came before. And, of course, the wedding is also different because of the bride – very different.
It's not that she is a commoner. There have now been a fair few non-aristocrats marrying into the family over the years.
Nor is it that she is divorced, although it was only 82 years ago that a future king abdicated so that he could marry a divorcee – and 50-odd years ago that the late Princess Margaret relinquished the love of her life because he was divorced.
Nor is it that Meghan is American – marrying foreigners is par for the course for the British Royal Family.
The shambles over who would walk Ms Markle down the aisle is reminder of another, stark, difference – hers is a family, who don't appear to know the rules about becoming a member of the Royal Family, or – if they do – clearly couldn't care less.
But it is the fact that she is, in her own words, "biracial" – that her mother is African American – that is breathtaking, some might say revolutionary, for the Royal Family.
And there's more. She has (or had) a job! She has (or had) a public profile! She is a very effective communicator, arguably better than any member of the Royal Family.
What's more, she is a self-confessed feminist, a high-profile member of the #MeToo generation.
So the arrival of Meghan Markle marks a huge change for what is still a clearly traditional and, some would say, pretty hidebound institution.
There has been talk of her modernising – or even saving – the monarchy. The Royal Family continuously needs to renew itself, and it has proved pretty adept at that.
Ms Markle is certainly dragging them into the Instagram age, but just how much she can change it we will have to wait and see.
She has said previously: "I never wanted to be a lady who lunches, I always wanted to be a lady who works."
Well, the royal role is lunches. And teas. And opening hospitals and attending charity functions.
And looking good, and nodding a lot, and not saying much beyond asking what people do and commenting on the weather.
Don't get me wrong, it is important work – hard work, at times, often boring work, I imagine. But it is not what she is used to.
So we wait to see – does Meghan change the Royal Family? Or does the Royal Family change her?