WHO recalls that the spread of the new coronavirus outside of China "is minimal and slow"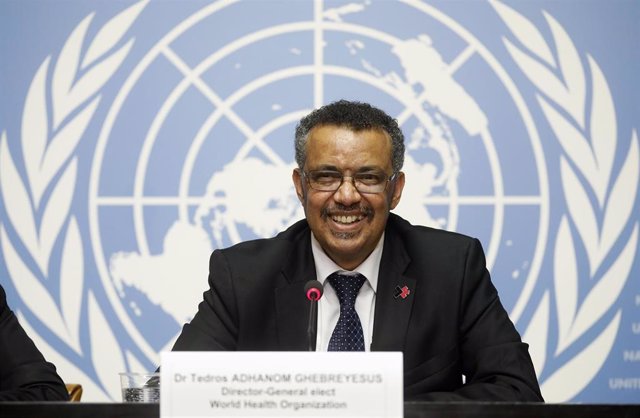 Tedros Ghebreyesus – WHO – Archive
There is no reason to take measures that unnecessarily interfere with international trade and travel, "says the head of the WHO
GENEVA, Feb 3 (EUROPE PRESS) –
The director general of the World Health Organization (WHO), Tedros Adhanom Ghebreyesus, stressed Monday that the spread of the new coronavirus outside China "is minimal and slow", although he stressed the need for "solidarity" to stop the outbreak and has criticized the decision of several countries not to allow the entry of Chinese visitors.
Thus, Tedros has assured that it is not necessary to restrict trips from China to try to contain the coronavirus and instead has opted to fight the virus in the epicenter. "The spread to other countries is minimal and goes slowly," he explained. The spread outside of China "can be easily controlled."
"There is no reason to take measures that unnecessarily interfere with international trade and travel … We ask all countries to make decisions based on science and be consistent with it. The World Health Organization is ready to advise any country that is considering what measures to take, "he said.
The United States, Australia or Singapore do not allow entry to foreign visitors who have recently been to China. Other countries prohibit entry to visitors who have been in the province of Hubei, the epicenter of the outbreak, and some more have closed their borders and suspended flights.
The Chinese government has criticized the decision of the United States to declare a public health emergency and restrict entry because they believe it causes "panic."
"In a time of great anxiety, we must avoid stigma and discrimination, and unite in solidarity and with compassion," said UN Secretary General António Guterres. "The rule of this game is solidarity, solidarity, solidarity, but it is something we miss in many places and we have to address it," he said.
From WHO they point out that both the coronavirus 2019-nCoV and Ebola have demonstrated the "vital importance" of investing in preparedness measures, not in response guided by panic.
In the Democratic Republic of the Congo, more than $ 1 billion has been spent trying to curb Ebola. However, in neighboring Uganda, only 18 million had to be allocated in preparation. "When Ebola crossed the border, they were prepared and held back. It must be a lesson for the rest of the world," said Tedros.
The head of WHO has recognized, however, that the alert mechanisms are not the most appropriate for a situation like the current one. The existing options are to declare a public health emergency of international interest or not to do so, a system "too sharp" to deal with complex emergencies.
"We have a green light and a red light and nothing in between. We need a yellow light, other mechanisms. The binary yes-no is not suitable for emergencies. It is too restrictive, too simplistic and does not fit its purpose," he argued. .
WHO is "exploring options" to indicate an intermediate level of alertness for what they hope to have the support of member countries that will meet in March in Marrakech, in Morocco, at a ministerial level meeting on "health diplomacy ".