Who is the passionate royal wedding preacher?
Bishop Michael Curry delivered a passionate sermon on the power of love.
Speaking at what is being called a truly modern royal wedding, his animated and wide-ranging speech was a break from tradition – something he alluded to when he told the couple: "Make of this old world, a new world."
The Most Reverend Curry, from Chicago, became the first black presiding bishop of the Episcopal Church, part of the Anglican Communion, in 2015.
A campaigner for social justice, the 65-year-old has spoken out about LGBT rights, sexual abuse and immigration policy.
:: Famous faces celebrate Harry and Meghan's big day
In his sermon, he quoted civil rights hero Dr Martin Luther King Jr and referenced the lyrics of the African-American spiritual song Down By The Riverside, sung by slaves.
Bishop Curry is unafraid of being seen as political and is set to march against Donald Trump in four days' time.
He has called the president "dangerous" and co-signed a damning statement which said: "We are living through… a dangerous crisis of moral and political leadership at the highest levels of our government."
:: The low-down on Meghan Markle's dress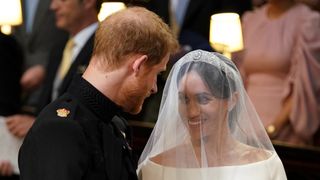 The bride and groom invited Bishop Curry to speak and held hands smiling as they listened to his words, while other wedding goers appeared pleasantly surprised by the colourful sermon.
Addressing the audience as "brother and sisters", the married father of two told them: "There's power in love, don't underestimate it,
"When love is the way, poverty will become history. When love is the way, the Earth will be a sanctuary."
:: Cake and wedding breakfast menu revealed
The bishop, whose presence reflects the bride's own African-American heritage and the couple's transatlantic relationship, was ordained as a priest in 1978.
He has fiercely defended the Episcopal Church's move to allow same-sex couples to marry in church in 2015 – for which he received backlash from some parts of the church.
He has also campaigned for better family day care, education and investment in inner-city neighbourhoods in all three of his parish ministries in North Carolina, Ohio, and Maryland.
The Most Reverend Justin Welby, who officiated the ceremony in St George's Chapel, said Bishop Curry is a "brilliant pastor, stunning preacher" and shared a picture of the pair of them, calling the bishop his "brother".
:: Meghan's father – "My baby looks beautiful"
As some of those in the congregation sat in rapt attention and others cheerfully giggled during the spirited sermon, viewers at home shared overwhelmingly praise for Bishop Curry.
Former Labour leader Ed Miliband said the speech could "make me a believer".
Karen Attiah, global opinions editor at the Washington Post, called the whole wedding "an overt celebration of black American culture".
:: The lowdown on the royal wedding after-party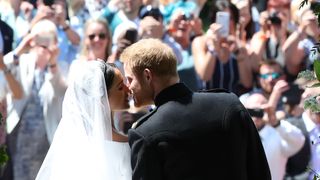 It is believed the Queen has an unofficial rule that speeches should never run longer than five minutes, and Bishop Curry showed good humour as he appeared to realise his 14-minute sermon may have gone on too long.
He joked he had better wrap up, saying: "We gotta get you all married!"
The bishop finished by saying: "God love you, God bless you… and may God hold us all in those almighty hands of love."
:: See all of the guests as they arrived at the royal wedding – use our exclusive, interactive Who's Who feature on the Sky News app and website.
:: Watch a special highlights programme in ultra high definition at 9pm on Sky News.