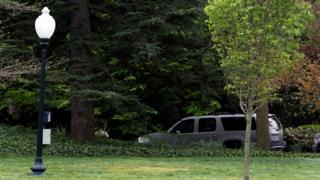 A tree gifted to President Donald Trump by French President Emmanuel Macron has disappeared.
The pair planted the sapling, taken from the site of a World War One battle in north-east France, during Mr Macron's state visit last week.
Mr Macron said the tree would be a reminder of "these ties that bind us".
White House tree: Emmanuel Macron's sapling disappears
But a Reuters photographer on Saturday took a shot of only a yellow patch of grass on the White House south lawn where the tree once stood.
The tree, a European sessile oak, came from the site of the Battle of Belleau Wood, which took place in the summer of 1918.
Nearly 2,000 US soldiers died in the battle north-east of Paris.
Yet only four days after it was planted, the sapling has disappeared.
There has been no official reason given for the sapling mystery, but there is speculation online about the tree's fate.
French radio network Franceinfo quotes gardening site gerbaud.com, which says this type of oak is better planted in autumn, giving it time to grow deep roots "to face the drought of the following summer".
"The tree may be back in October," Franceinfo speculates.
Meanwhile, Huffington Post quotes an unnamed official at the Elysée Palace, who said the tree is under quarantine.
The US Customs and Border Protection website explains that foreign plants "intended for growing (propagative) require a foreign phytosanitary certificate in advance" before being brought into the country.
The official reportedly said the tree is doing well.
President Macron's gift quickly became an internet sensation, with a photo of the two men shovelling earth onto the sapling quickly turning into a meme.