Mr Netanyahu claimed Iran was "brazenly lying" when it said it never had a nuclear weapons programme.
A White House statement said: "These facts are consistent with what the United States has long known: Iran has a robust, clandestine nuclear weapons programme that it has tried and failed to hide from the world and from its own people."
In a news conference on Monday Mr Netanyahu said Iran has continued to preserve and expand its nuclear weapons knowledge for future use after signing the 2015 nuclear deal, officially named the Joint Comprehensive Plan of Action.
White House: Iran nuclear weapons claims 'compelling'
The deal granted Tehran relief from international economic sanctions in return for curbs to its nuclear programme.
But Mr Netanyahu said Iran did not honour the agreement and instead just intensified its efforts to hide its secret files after signing the deal.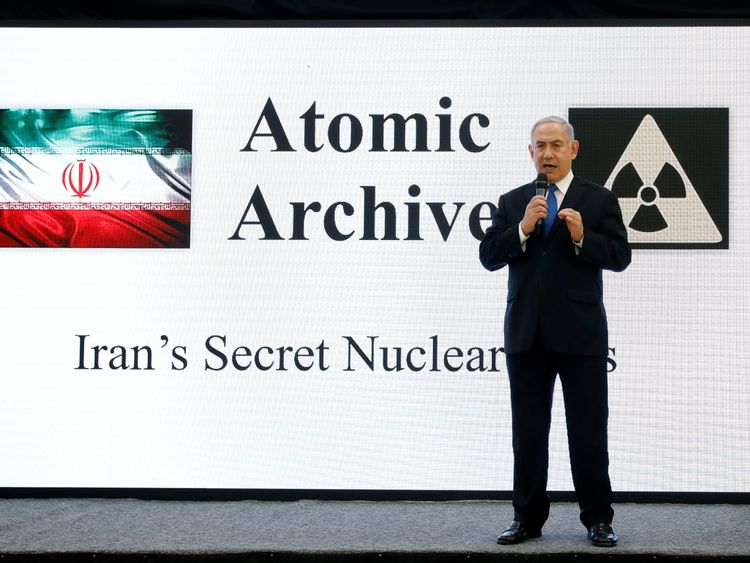 Donald Trump described the Israeli PM's presentation as "good" and said Iran's behaviour was "just not an acceptable situation".
The US President has set a 12 May deadline to decide whether to pull out of the deal.
However, the views of Mr Trump and Mr Netanyahu are at odds with those of the EU and the UK.
The European Union's foreign affairs chief Federica Mogherini said Israel's allegations that Tehran once pursued nuclear weapons do not appear to show Iran is currently violating the 2015 international nuclear agreement.
"What I have seen from the first reports is that Prime Minister Netanyahu has not put into question Iran's compliance," she said.
And the British Government defended the 2015 accord. A spokesman said: "We have never been naive about Iran and its nuclear intentions.
"That is why the IAEA inspection regime agreed as part of the Iran nuclear deal is one of the most extensive and robust in the history of international nuclear accords.
"It remains a vitally important way of independently verifying that Iran is adhering to the deal and that Iran's nuclear programme is exclusively peaceful."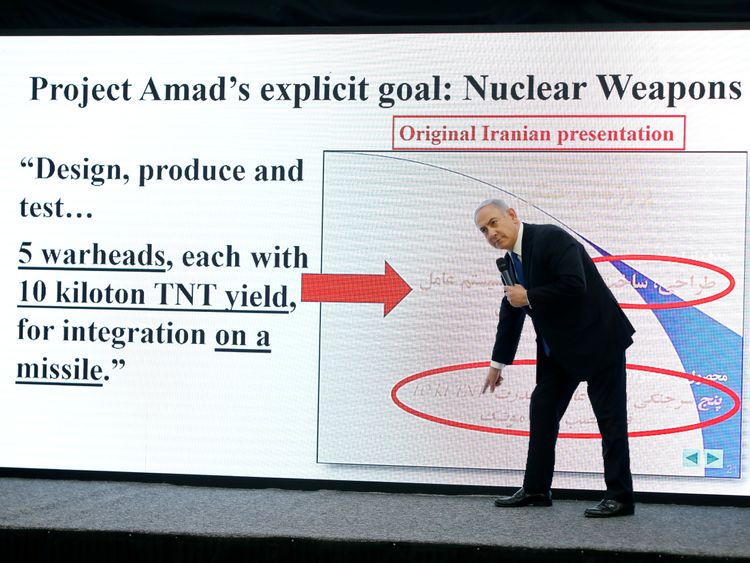 Earlier, Iran's foreign minister Javad Zarif said Mr Netanyahu's allegations are old and have already been dealt with by the International Atomic Energy Agency.
Mr Zarif tweeted: "BREAKING: The boy who can't stop crying wolf is at it again. Undeterred by cartoon fiasco at UNGA. You can only fool some of the people so many times."
He added: "Trump is jumping on a rehash of old allegations already dealt with by the IAEA to "nix" the deal.
"How convenient. Co-ordinated timing of alleged intelligence revelations by the boy who cries wolf just days before May 12. But Trump's impetuousness to celebrate blew the cover."
Iran's supreme leader Ayatollah Ali Khamenei accused Washington of trying to stoke a "regional crisis" by provoking its ally Saudi Arabia to confront Tehran.
"Americans are trying to provoke Saudi Arabia against Tehran," he said.
"Their aim is to create more regional crisis… to push Muslims to fight against Muslims.
"If these governments gain more wisdom, they will not confront Iran. If they confront Iran, they will be defeated."
Mr Netanyahu's statement came after a missile strike on government outposts in northern Syria on Sunday night, which reportedly killed several Iranians.
The strikes sparked speculation that Israel may have carried them out amid soaring tensions with Iran.