White Christmas 'could still happen'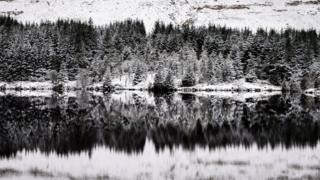 People hoping for a white Christmas may be in luck after the Met Office issued a snow and ice warning from 19:00 GMT in parts of Scotland and England.
More wintry showers are expected, with the chance of up to 10cm of snow on the highest ground in Scotland.
A white Christmas used to be defined as a professional meteorologist seeing one snow flake falling on the roof of the London Weather Centre.
The Met Office has widened the rule to other parts of the country.
However, the snow still has to be seen by a professional to count.
"There will be some snow, mainly on the hills across Scotland, but there could be a centimetre or two in the lower areas," said forecaster Marco Petagna.
Boxing Day warning for snow and heavy rain across Wales

Met Office issues ice warning for Scotland
The Met Office warning covers southern, central and eastern Scotland and the most northern parts of England.
Highest temperature
It is also alerting people in Wales and central England to expect rain and snow from 18:00 GMT on Boxing Day until 11:00 GMT on Wednesday.
Persistent rain moving east, from Wales into England, is likely to turn to snow early on Wednesday.
Most of the UK has enjoyed a mild Christmas Day, although it has been wet in some areas.
The highest temperature – of 12.5C – was recorded in Hawarden, Flintshire, in north-east Wales.
It failed to match the Christmas Day record of 15.6C in Killerton, Devon in 1920.