Which 'big six' Premier League boss provides the best value for money?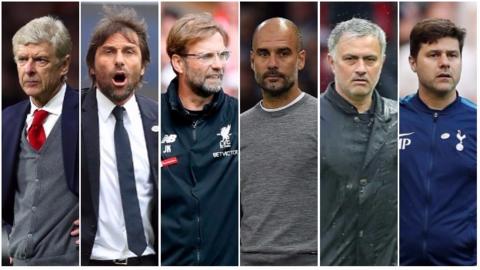 It is easy to spend money in football. Spending it well is a lot harder.
At the very top, the sport is awash with spendthrift billionaire owners and ever-increasing television revenues leading to eye-watering transfer fees.
To compete, it is imperative that the top clubs have thorough scouting, smart recruitment, intelligent coaching and, above all, a manager who can blend all of this into a successful side.
Over the past two seasons, each of the Premier League's 'big six' – Arsenal, Chelsea, Liverpool, Manchester City, Manchester United and Tottenham – have kept their manager. But which have delivered the best return on their transfer outlay in that time?
Big six managers over past two seasons
Manager
Club
Net spend
Points
Cost per point
Major trophies
Pep Guardiola
Manchester City
£360.04m
175
£2.06m
2 (2017-18 Premier League & League Cup)
Jose Mourinho
Manchester United
£261.67m
147
£1.78m
2 (2016-17 League Cup & Europa League, in 2017-18 FA Cup final)
Arsene Wenger
Arsenal
£84.01m
135
£622,296
1 (2016-17 FA Cup)
Antonio Conte
Chelsea
£73.46m
163
£450,674
1 (2016-17 Premier League, in 2017-18 FA Cup final)
Mauricio Pochettino
Tottenham
£33.06m
160
£206,625
0
Jurgen Klopp
Liverpool
-£720,000
148
£0
0 (in 2017-18 Champions League final)
Manchester City
You don't spend money like Manchester City without attracting criticism. The barbs have been both overt (from rival fans) and veiled (none more so than Manchester United boss Jose Mourinho's January complaint that City "spend striker money on full-backs").
City are, at present, the alpha males of the market, in the Premier League at least. During the two seasons of Pep Guardiola's reign at the club they have spent £476m to bring in 23 players, including an unprecedented Premier League outlay of £284m during the two transfer windows of 2017-18.
But City have not been throwing good money after bad – a past failing of theirs and a present one for some top-flight clubs. Their spending represents the need to overhaul areas of an aging, under-performing squad and an expensive but unwavering loyalty to the vision and ability of their manager, vindicated through this season's delivery of the most impressive of Premier League title wins and an accompanying Carabao Cup.
The Spaniard is clocking in at £2m a point – the most expensive of the big six – but for the expertise he has brought and the memories he has provided in a league campaign of arguably unparalleled brilliance, Manchester City, their fans and many more would say he is priceless.
Manchester United
In his two years at Manchester United, Jose Mourinho has continued the big-spending transfer pattern the club have adopted in search of rediscovering their success under Sir Alex Ferguson. This has involved lavish outlays on a small number of signings – £314m on eight individuals in the past two seasons, with only Zlatan Ibrahimovic (free) and Alexis Sanchez (swap) costing them less than a £30m fee.
Mourinho may bemoan his club's inability to compete with City, both on and off the pitch, but they have done as good a job as any to try to cling on to the coat-tail of Guardiola's side on both fronts.
The runners-up spot in the league is theirs, as is the chance of a third trophy in two years under the Portuguese when they face Chelsea in the FA Cup final on 19 May. They were also one of just two sides to beat City this league campaign, and the only one to do so at the Etihad. They may not have bought full-backs for striker money, but United did bring in Paul Pogba in the summer of 2016 for what was then unprecedented cash for any player and the £76m on Romelu Lukaku last summer is also more than City have spent on a single player in their history.
Mourinho's side have not sparkled in the league like City, but if he secures an FA Cup in eight days' time, Mourinho will have won more major trophies than Guardiola during their respective current tenures. Like a maverick TV cop, you may not like Jose's methods, but he gets results.
Arsenal
A lot has happened in the 22 years of Arsene Wenger's soon-to-end reign at Arsenal. The Frenchman arrived at the club when the Premier League had yet to fully conquer the globe's TV market. His first season was the last of BSkyB's initial broadcast deal, worth £304m. Even accounting for inflation, that is just short of £4bn less than the current contract. Russian billionaire Roman Abramovich would not buy Chelsea and transform transfer spending in this country for another seven years.
Operating in relative parity with the rest, Wenger's ability to spot an improvable bargain enabled Arsenal to flourish for the first eight years of his tenure. The zenith of this came in 2003-04 with the 'Invicibles' season – Wenger's third title triumph at the club but also his last.
As the Premier League landscape shifted around the Frenchman, the apparent financial straitjacket placed upon him grew ever tighter. Despite often bringing in more than he spent, he managed to keep the club competitive to the board's satisfaction – if not that of an increasing number of fans.
However, another significant downturn in performance in the past two seasons, resulting in the Gunners failing twice to qualify for the Champions League, has lowered Wenger's stock to an intolerable level for both club hierarchy and supporters, now largely united in the belief that greater managerial value lies elsewhere.
Chelsea
Hit and miss. This is perhaps the best way to describe the Chelsea career of Antonio Conte. Second only to Manchester City in terms of money spent on players during the tenure of their current manager, the Blues have parted with £352m to recruit 14 players in the past two seasons.
However, they have also recouped significant amounts, partly through a policy of hoovering up young talent that can be shipped on at a profit should they not fit the bill at Stamford Bridge. The successes are matched by the failures. For every N'Golo Kante coming in there has been a Tiemoue Bakayoko, for every financially rewarding departure like Oscar there is a squandered opportunity like Mohamed Salah.
It is a trend mirrored on the pitch, where Conte has presided over an impressive debut-season title win and then a huge regression to probable Europa League qualifiers. Assuming they do not pip Liverpool to fourth place, they could still salvage something from the season by winning the FA Cup but as Arsenal have discovered before them, this is scant reward for a side with Europe-conquering aspirations.
Conte still presents comparatively good value for money but like his future at Stamford Bridge, that figure was looking a lot healthier 12 months ago.
Tottenham
"It's completely unfair that the people, the media is going to compare Tottenham with a club like Manchester City, United or Chelsea," said Spurs boss Mauricio Pochettino in December last year. "We are in a complete opposite side. I'm not complaining about nothing. It's only that I accept our position and where we are."
Tottenham may well be "a complete opposite side" to the likes of City, United and Chelsea. But thanks to Pochettino they continue to rub shoulders with them at the right end of the top flight.
During the Argentine's near four-season reign at White Hart Lane (and Wembley), the club have finished fifth, third, second, and are guaranteed another top-four place this campaign.
Pochettino is not infallible by any means (Vincent Janssen anyone?) but his tenure is littered with players brought in for a price that is now made a mockery of by their performances: Dele Alli, Toby Alderweireld, Ben Davies, Son Heung-min, Kieran Trippier, Victor Wanyama. Add to that the work he has done with some of the club's own youth products. Harry Winks has developed into a full England international on his watch, Harry Kane into one of the most sought-after players in the world.
Having amassed 294 points in his time in charge, albeit at a comparatively small net spend, Pochettino's failure to win a trophy suggests he may have taken Spurs as far as he can on their current budget. With a third successive Champions League campaign beckoning and a new 60,000-plus seater stadium on the horizon, Pochettino may not have to accept Spurs' position for much longer. He will, though, have to deliver.
Liverpool
As the only man in profit on the list, on the face of it Jurgen Klopp is the managerial bargain of the century. The German has undoubtedly done a lot with the materials at his disposal. There is, though, significant context surrounding that figure, headlined by one Philippe Coutinho.
The Brazilian's sale to Barcelona in January for an initial £108m provides the highest-profile example of how Liverpool have balanced their books through the (occasionally unwanted) big-money sale of players during Klopp's time at the club.
We are talking, though, about a snapshot in time during the cycle of any club's development. Currently, this benefits Klopp following the balancing effect of Coutinho's sale. We could be presented with a very different outcome in 12 months' time, when the sizeable transfer fee of Naby Keita is added to the balance sheet as part of what may well be two windows of significant outlay.
What is to Liverpool and Klopp's credit is their ability to identify and drive a hard bargain on players they can then improve. As an example, Salah was brought in for roughly £10m more than they recouped from the sale of Christian Benteke to Crystal Palace. The latter has three goals in 29 appearances this season, the former 43 in 48.
It is this that has enabled Klopp to develop the Reds into one of the most devastating attacking sides in England and beyond, without breaking the bank. This could be emphasised further on 26 May when they face Real Madrid in the final of the Champions League.