Where did it go wrong for Carillion?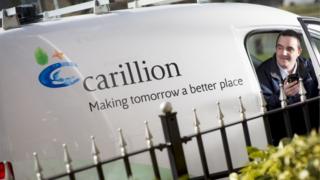 UK construction firm Carillion is in huge financial trouble.
The UK's second-largest construction company is shouldering a whopping £1.5bn debt pile and some fear it could collapse into administration.
The big concern is over the disruption this might cause, given Carillion holds so many government contracts – from building hospitals to managing schools.
It also employs about 20,000 people in the UK and has more staff abroad.
So how did the company get into such dire straits?
What does Carillion do?
Carillion specialises in construction, as well as facilities management and ongoing maintenance.
It has worked on big private sector projects such as the Battersea Power station redevelopment and the Anfield Stadium expansion.
But it is perhaps best known for being one the largest suppliers of services to the public sector.
Notably, it holds a contract to build part of the forthcoming HS2 high speed railway line and is the second largest supplier of maintenance services to Network Rail.
It also maintains 50,000 homes for the Ministry of Defence, manages nearly 900 schools and manages highways and prisons.
How big is it?
Very. Carillion employs 43,000 staff globally, around half of them in the UK where it does most of its business. It also operates in Canada, the Middle East and the Caribbean.
In 2016 it had sales of £5.2bn and until July boasted a market capitalisation of almost £1bn. But since then its share price has plummeted and it's now worth just £61m.
What has gone wrong for the firm?
Some argue it has over-reached itself, taking on too many risky contracts that have been unprofitable. It also faced payment delays in the Middle East that hit its accounts.
Last year it issued three profit warnings in five months and wrote down more than £1bn from the value of contracts.
This has made it much harder to manage its mountainous £900m debt pile and £600m pension deficit.
In December the firm convinced lenders to give it more time to repay them.
However, the company's banks, which include Santander UK, HSBC and Barclays, are understood to be reluctant to lend it any more cash.
Why does it matter if it collapses?
As Carillion is such a big supplier to the public sector, some fear its collapse would cause a lot of disruption.
Labour MP Jon Trickett told parliament that if it went under, it would risk "massive damage" to a range of public services.
Thousands of jobs also hang in the balance. Unions have said workers do not deserve to be caught in the crossfire and have urged the government to safeguard their jobs and bring Carillion's contracts back in house.
The government has said that "contingency plans are in place" and it is closely monitoring the situation.
The big question is who would pick up the firm's loss-making public contracts if it went under – another outsourced services provider or the government itself?
Or would the government – which says Carillion continues to do good work on projects like Crossrail – be prepared to provide emergency financial support until it gets its house in order?
Analysts say Carillion has a large order book of business lined up, but will be unable to deliver it unless its cash flow problems are resolved.