When is it acceptable to wear a flat cap?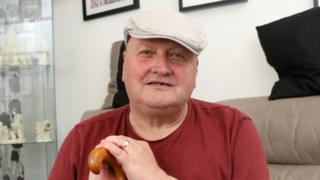 A shopper was recently ordered to remove his flat cap, or leave a convenience store. Once the preserve of men of a certain age, these days flat caps can often be spotted perching atop hirsute hipsters – but where is it acceptable to sport one?
Tesco
Last week at a Tesco Express in the suburb of Upper Gornal in Dudley, West Midlands, flat caps were most certainly not welcome.
Graham Cattermole was stunned to be told he would have to take off his hat or leave, as he was in breach of the store's "no hoodies and no crash helmets" policy.
The 64-year-old electrician understandably took umbrage and told the offending security guard to "where to stick it".
It turned out that in fact Tesco is not a no-flat cap zone and the great-grandfather was merely unfortunate to encounter a new recruit who had not had the right training.
The retail giant later apologised to the defiant sparkie, and said he is more than welcome to don his flat cap in its aisles – although whether he will be returning to Tesco remains to be seen.
Royal weddings
Readers might remember last month's royal wedding, where a strict dress code meant that all the women had to sport a hat.
But what about the men? Would a flat cap have been welcome at the Duke and Duchess of Sussex's nuptials?
Absolutely not, according to Grant Harrold, an etiquette expert and former butler to Prince Charles.
A top hat would have been an acceptable accompaniment to a traditional morning suit, although the headwear would have had to have been removed once inside St George's Chapel.
Furthermore, tradition dictates that a man should remove his hat in the presence of a lady – and he should not be caught dead wearing one, flat cap or otherwise, in the presence of royalty.
"There are lots of rules around hats," says the self-styled Royal Butler.
Mr Harrold suggests the Tesco security guard who insisted Mr Cattermole remove his hat might himself be an "etiquette scholar", as traditionally men should remove their hats upon entering a building.
The Olympic Games
"It represents being British," says Team GB Olympic archer Patrick Huston of the flat cap.
The archer, who was born in Belfast and now trains in Shropshire, says he finds it the most suitable hat for his sport, offering protection from the sun but – unlike a baseball cap – not getting in the way of the string from his bow after shooting.
Be that as it may, in 2016 the bearded bowman was told he was not allowed to don his trademark hat during the Olympic Games in Rio.
A branding row with Adidas meant he had to choose one of their designs or wear none at all, so he went hatless.
And the Olympic bowman is not the only sports personality with a penchant for flat caps – David Beckham and his sons Brooklyn and Romeo find them perfectly suited to fishing expeditions.
Royal Ascot
Ladies' Day is a crucial date in the UK hat-watch calendar, but does the world-famous racecourse permit its gentlemen equine enthusiasts to sport flat caps?
Again, it is bad news for fans of this much-loved item of headwear. Despite becoming ever-more liberal, even permitting jumpsuits in the dress code last year, you are unlikely to get away with a flat cap at Royal Ascot.
You might also be interested in:
How proud is your area of being English?

WATCH: 'I'm a student, this way I get free food' – BBC News
The dress code states that men must wear a top hat within the Royal Enclosure, and while flat caps are not expressly forbidden elsewhere in the grounds, organisers tell the BBC they don't feel such a choice of hat fits within the parameters of "summer formalwear".
In theory, women can wear a flat cap to Royal Ascot. The only specified rule is that hats worn in the Royal Enclosure must have a base of 4in (10cm) in diameter (so no fascinators, please).
But if there are further rules about ladies' hats, it is hard to imagine anyone is actually enforcing them.
The pub
Although certain types of headwear have been banned by some pubs, thirsty flat cap wearers shouldn't have have any problems ordering craft beer or real ale at their local watering hole.
Indeed, there is one hostelry where the flat cap isn't only acceptable, it's actively encouraged.
Flat caps are "pretty normal" at The Peaky Blinder in Birmingham city centre, according to a spokesperson for the pub, with some punters even arriving in "full Peaky Blinder outfits".
"The flat cap is a big part of the history of the gang, and due to the TV series the caps have seen a big comeback," the spokesperson said.
This is reflected on the high street, according to retailer John Lewis. It says it's "definitely noticing the Peaky Blinder effect", with a rise in flat cap sales each season since the show started in 2013.
And so at last we have found a location where whippet owners, hipsters and historical crime drama obsessives alike can happily sport their flat caps.
Just don't try wearing one in the Upper Gornal branch of Tesco Express.*
*Disclaimer – you are of course allowed to wear a flat cap at any of Tesco's 6,500-plus stores in the UK.