What it was like to play at the royal wedding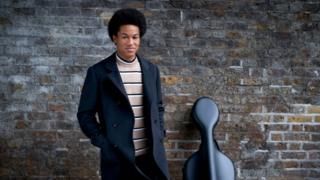 It's not every day you can say you've performed at the royal wedding, but for Sheku Kanneh-Mason, that's a once-in-a-lifetime opportunity he can tick off his list.
The 19-year-old cellist played to 600 guests at Prince Harry and Meghan Markle's wedding on Saturday.
Sheku told Newsbeat the whole day was "just really amazing".
He played three pieces at the wedding – Paradis' Sicilienne, Faure's Apres un reve, and Schubert's Ave Maria.
Two of them were his own recommendations and the last was a request from the Duke and Duchess of Sussex themselves.
"The first two pieces I suggested because they're pieces I've always loved for a very long time," he told Newsbeat.
"Then Ave Maria, which is probably the most popular piece of the three, was by suggestion of the couple."
Sheku, who was the first black winner to gain the title of BBC Young Musician in 2016, went to the chapel in Windsor a few weeks prior to the wedding to practise – but it was only the day before that he got to rehearse with the orchestra.
While it was a "really nice experience", he did notice something "quite funny" about the run-through.
"They had stand-ins for all of the people speaking and things like that, so it was really weird seeing two random people taking the vows for Harry and Meghan," he said.
Sheku described the reaction to his performance as "really lovely" and told Newsbeat: "I'm really grateful to have had the opportunity to perform to so many people."
He even got to take a picture with preacher Michael Curry after the ceremony, who he described as an "inspirational character" and "really lovely person".
Approximately 1,200 members of the public were invited to the Windsor Castle grounds for the wedding.
Oprah Winfrey, David and Victoria Beckham, and George and Amal Clooney were some of the many celebrities in attendance.
An estimated 2 billion viewers are said to have watched the royal wedding worldwide.
Follow Newsbeat on Instagram, Facebook and Twitter.
Listen to Newsbeat live at 12:45 and 17:45 every weekday on BBC Radio 1 and 1Xtra – if you miss us you can listen back here.