What books are you reading with your children?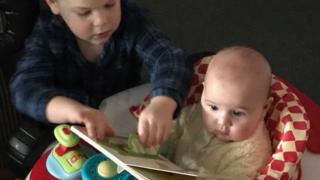 Ahead of #WorldBookDay next week, the Duchess of Cornwall has been speaking in an interview about the importance of reading to children.
She said: "Turning the pages of a favourite book creates a very special bond with our grandchildren, but it's not just an indulgent pleasure. We all know that reading is an invaluable life skill."
So whether it is The Snowman at bedtime, The Gruffalo in the back of the car or classics by Enid Blyton, you have been telling us about the stories that capture your children's imagination.
Louise Griffiths from Berkshire says her five-year-old son loves reading: "We have read to our son from birth, from children's books to factual books about animals. He can now recognise words and is beginning to read to us.
"As a result he has a wild imagination and we see this come through in his play.
"He loves anything by Julia Donaldson – he could recite The Gruffalo from the age of two. We have recently got into Dr Seuss and rhyming and have also started reading Fantastic Mr Fox.
"We have a six-month-old daughter who we also read to. She likes looking at the pictures and listening to the funny voices we make whilst reading."
You might also be interested in:
Kirsty Stephenson started reading to her daughter Freya before she was born. "Books are in every room of our house for whenever she/we fancy a read. She'll even pick up a cookbook or a map and find some way of making it fun in her own way," she says.
"We're even at the stage where she will happily snuggle close and stare into space as I read a picture-less storybook.
"She's five years old now and has quite an imagination and enjoys reading to me and writing her own books.
"Last year the Faraway Tree series of books was her absolute favourite and she read the whole set in three days. More recently Freya has got into The Worst Witch book series by Jill Murphy and on #WorldBookDay she will be dressing up as Mildred Hubble from the Worst Witch books."
Noelle Lehmann from Chelsfield in Kent says she started reading to her son Eloi before he was six-months-old.
"He is now almost two-and-a-half and is not interested in technology but instead prefers us to read to him, which we are very proud of.
"Our favourite story that we read together is The Snowman by Raymond Briggs. We introduced it to Eloi when he turned two and he absolutely loves it."
---
Do you read with your children? Please send your comments and pictures of you reading with your children to: [email protected].
You can also contact us in the following ways:
Tweet: @BBC_HaveYourSay