Wet wipes could face wipe-out in plastic clean-up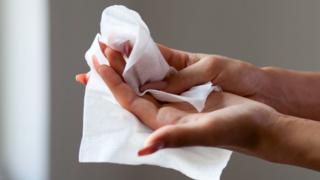 Wet wipes, used for sticky fingers and removing eye make-up, as well as on other parts of the anatomy, could themselves be wiped out over the next couple of decades.
The government says its plan to eliminate plastic waste "includes single use products like wet wipes".
The wipes contain non-biodegradable plastic.
So manufacturers will either have to develop plastic-free wipes or consumers will have to go without.
Wet wipes are behind 93% of blockages in UK sewers, a key element of the infamous giant obstacles known as fatbergs, according to Water UK, the trade body representing all of the main water and sewerage companies in the country.
That has prompted the government and industry to focus on persuading consumers not to flush them into the waste water system.
"We are continuing to work with manufacturers and retailers of wet wipes to make sure labelling on packaging is clear and people know how to dispose of them properly," a spokesperson for the Department of the Environment (Defra) said.
However, Defra says it is also "encouraging innovation so that more and more of these products can be recycled and are working with industry to support the development of alternatives, such as a wet-wipe product that does not contain plastic and can therefore be flushed".
The wet-wipe industry has flourished over the last decade with manufacturers offering an ever broader range of wipes, for sensitive skin, babies' bottoms, removing make-up, applying insect repellent, deodorant or sunscreen. However most are made of polyester and other non-biodegradable materials.
Defra is in the process of exploring how changes to the tax system or charges could be used to reduce the amount of single-use plastics wasted.
Prime Minister Theresa May pledged in January to eradicate all "avoidable plastic waste" by 2042.
The government has also said it will consult over whether or not to ban plastic straws, cotton buds and drink stirrers.