West Ham: Manuel Pellegrini to be given record funds this summer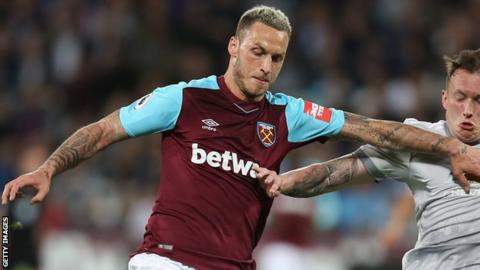 West Ham will give new manager Manuel Pellegrini a larger budget this summer than they have "spent in any window in the past", says co-owner David Gold.
The Chilean, confirmed as Hammers boss on Tuesday, has targeted "four or five" players to help the club avoid a repeat of last season's relegation struggle.
Gold, 81, says West Ham will make a record level of investment.
"We will probably spend more money in this window than we've spent in any window in the past," Gold said.
Gold and co-owner David Sullivan have been criticised by supporters in the past for a lack of spending in the transfer market.
West Ham ended the 2017-18 Premier League season in 13th – their worst finish for four years – and their safety was only confirmed a fortnight before the end of the campaign.
The club has typically spent between £35-45m in each of the last three summer windows on permanent signings but Gold says he is unable to state what this summer's expenditure will be.
"You can't put a figure on it because you don't know which players are going to leave and that will add to the kitty," he told Talksport.
"He's working on it right now, that's why he's been brought in.
"He's identified the positions he feels we need to strengthen, and it's up to him now to tell us the players and we'll do everything we can to bring them in."
Gold also opened the door on a return to the club for defender James Collins, whose contract expires in June.
The 34-year-old former Wales defender was told on e-mail that he would not be given a new deal.
However Gold says he also spoke to the centre-back about his departure.
"You have to do that. What the league and the FA demand when you release a player is that you must send an email to the player and a copy to the Premier League and the FA," Gold added.
"You can still bring James back. It's the manager's decision, we could re-employ James tomorrow.
"But I did speak to James on the basis that he might not be coming back, we had a conversation."