Wendy Salisbury: How my mid-life sex life became a musical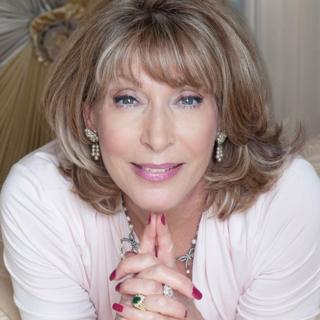 "There are moments when I disapprove of what I've done," admits Wendy Salisbury, reflecting on the rehearsals for a new musical based on her middle-aged romantic liaisons with a string of (much) younger men.
"Which obviously I shouldn't – I should own it and be proud of it."
Although she's approaching her 72nd birthday and is a grandmother of five, Salisbury has never been embarrassed about her exploits – yes, sexploits – as a middle-aged woman.
In 2007, she published The Toyboy Diaries, the title of which pretty much speaks for itself.
Now, that book has been turned into The Toyboy Diaries: The Musical, which has its premiere at Manchester's Hope Mill Theatre this week.
The book and musical detail Salisbury's love life in her 40s and 50s following her second divorce.
As well as featuring lashings of raunch and tongue-in-cheek humour, there's a personal story of Salisbury's quest for fulfilment and determination to challenge society's ideas about the role of women of a certain age.
An antiques dealer as well as a writer, Salisbury says she wants to change attitudes about women who hook up with younger men.
"A lot of it is my wishing to inspire other women that, if they are divorced or widowed or on their own for any reason, their choices are broader than what society would dictate, which would be a man between two and seven years older," she explains.
"Because in society, that is the norm. But, having done my procreation, I was looking for recreation. And I found it with younger men."
It's unusual for a show to be revolve around a middle-aged female character, let alone one so defiantly in control of her destiny.
In the musical, Wendy's name is changed to Lily, and the men's names have been changed too. They range from "Tom", an estate agent in his early 20s with whom she stayed for seven years, to "Sam", 20, with whom she shared a night of passion.
In real life, her partner of the past decade is now 48 – she thinks. "We absolutely don't do the numbers any more," she says. "We're just two people. Two grown-ups."
Her friends have been "very supportive" of her telling her story – but her daughters have been "less so".
"But then I don't think children really want to know about their parents' sex lives, do they?" she says. "They haven't read the book, and I'm sort of glad that they didn't. They always come first and they know that.
"My granddaughters, funnily enough, are much more supportive, the two older ones [aged 17 and 19]. They think it's very cool to have this sort of barmy grandmother."
You might also like:
Other reaction has been similarly mixed. Lots of people were positive about the book, but she says: "There was a lot of tut tutting and, 'Do you think this is appropriate behaviour for a woman of your age?'
"The worst hate mail that I've ever received has been from older men, interestingly.
"I've had, 'Good on you girl' from women and younger men, and I've had, 'You're disgusting, you don't know what you're doing, older men are so much better'.
"They're obviously feeling threatened, thinking there's a danger of them losing the ability to have power over us, and that is very relevant right now, isn't it? Older men do not like strong women. It threatens their egos."
She has lots of older male friends – but says she finds the attitude towards women among many of them "quite arrogant".
She explains: "The dates that I've had with older men, in my pursuit of normality, when my close friends say, 'Don't you think you ought to find someone your own age?'… The men are really quite boring. They talk about themselves incessantly. They rarely if ever ask a question about me."
One line in the show has Salisbury's character exclaim: "Although I deal in antiques, I never sleep with them!"
So she finds younger men more attractive in more ways than one.
"They're positive. They are optimistic. They are looking to the future," Salisbury says. "They talk about the future, whereas older men only talk about the past.
"Obviously the sex has to be taken into consideration because that is a big part of a relationship.
"Where we come a cropper is often with music – we don't share the same tastes in music – and films and things like that."
Salisbury always asks younger men why they're looking for a more mature lady.
"I do say, 'Shouldn't you be looking for a wife and having children?' And a lot of them say the girls that society says they should be with are very focused on marriage and babies, and the men are very focused on their careers.
"And they feel that to settle down would impede them from progressing in their careers.
"That's why an older woman is a better option for them as a partner because she's done all that. She's not going to want babies or marriage. So that kind of balance is for certain people."
But she adds: "I'm not saying this is for everybody. Far from it. A lot of women would not be the least bit interested in dating younger men."
Fun and frolics
So what's her advice to women who are on their own and want to follow her example?
"It depends on their attitude," she replies. "If they're looking for another life partner, a younger man might not be it. But if they're looking for fun and frolics, then yes why not?"
She recommends internet dating – there are sites dedicated to this kind of thing (she mentions the bluntly-titled Toyboy Warehouse).
"Be brave," she continues. "Make the best of yourself in the first instance so you feel good. A lot of women haven't got the courage because they think, 'My hair's not good and my figure's not good.'
"Work on yourself. Make yourself the best self that you can be.
"Then put it out there and see what happens."
The Toyboy Diaries is at Hope Mill Theatre from 18 January-10 February.
Follow us on Facebook, on Twitter @BBCNewsEnts, or on Instagram at bbcnewsents. If you have a story suggestion email entertainment.news@bbc.co.uk.