Wembley: Shahid Khan deal with FA could be completed in eight weeks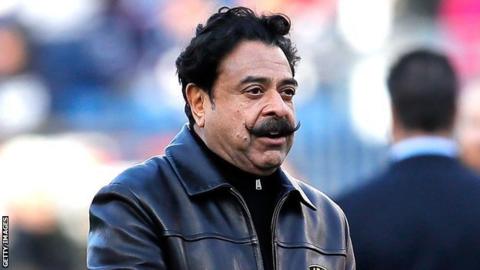 Fulham's billionaire owner Shahid Khan says he hopes a deal to buy Wembley Stadium from the Football Association will be completed in eight to 12 weeks.
Khan, who also owns NFL side Jacksonville Jaguars, has made an offer thought to be worth £900m.
It is understood he would pay £600m for the stadium and the FA will continue to run the £300m-valued Club Wembley hospitality business.
"This offer makes a lot of sense for us," he told BBC Sport.
"When I say us, I'm talking about the Jaguars, NFL, Wembley, and I think it also makes a lot of sense for the FA and the English football team.
"I'm pretty confident – that's why we're putting our name, our reputation on the line to get it done."
Khan, who has owned Championship side Fulham since 2013, said England games would remain at Wembley and he would retain the stadium's name.
BBC Sport understands selling Wembley would allow the FA to make a major investment into football at grassroots level.
Pakistan-born Khan has a current net worth of $7.2bn (£5.2bn) and is the 217th richest person in the world, according to the 2018 Forbes rich list.
He said he understands fans' concerns over his offer for the 90,000-seat stadium, which is the largest in the United Kingdom.
"I think they have to understand the value and the attraction for myself," Khan added.
"We'll leave the tradition and the stadium itself. Even though this is a new stadium, it does need upgrades.
"It means a lot to me because the first English stadium I went to was Wembley, and obviously it's iconic and historic and it means a lot to me.
"Under this arrangement the FA retains the right, the revenue, and that is really the most positive part of Wembley for the FA. So they will be retaining it and obviously we want it to be there."
The 67-year-old added that the deal would make lead to "more meaningful discussions" over a permanent NFL franchise in London. Wembley has been hosting NFL games each autumn since 2007.
Additionally, Premier League club Tottenham Hotspur have a deal with the NFL to stage a minimum of two games a season over 10 years once they have moved into their new stadium later this year.
"Until now, NFL doesn't have a stadium solution or have a home," Khan said. "And it can't work with a Premier League club, because of the schedule. It does work very well with Wembley, so I think it makes it closer."
According to the FA's latest financial results, it still owes £113m to public bodies such as Sport England, the Department of Culture, Media and Sport, plus the London Development Agency, which helped pay to build the stadium, which cost £757m and opened in 2007.
In January, the FA said it would finish paying for the ground by the end of 2024.
In a statement, Sport England said it had invested £120m of National Lottery money into the development of Wembley and it looked forward to "hearing more detail about how such a deal would work and whether it would benefit grassroots sport".
'It could be a positive move' – reaction to Khan offer
Prime Minister Theresa May's spokesman: "This process is at an early stage and it's ultimately a decision for the FA. But Wembley is the historic home of English football and holds a very special place in the hearts of fans up and down the country and I'm sure the FA will want to strongly consider the views of these supporters before deciding what to do next."
Labour Shadow Sports Minister Dr Rosena Allin-Khan: "The FA should not rush into any deal to sell and any deal must guarantee that England continue to play at Wembley as well as around the country; that major tournaments, cup finals and play-offs for multiple sports are still held at Wembley; and that ticket prices for England games are frozen for 10 years. The FA needs to guarantee that profits of the sale will be put into grassroots football to ensure that future generations will benefit."
Crystal Palace boss and former England manager and Roy Hodgson: "I am a massive supporter of Wembley as the national stadium and England playing there but I also have great faith in the FA that they won't be making decisions lightly. If they think that is a good deal, a deal that will bring in money that they can spend in a better way, then I would be behind that."
Former England captain and BBC Sport presenter Gary Lineker on Twitter: "If the money goes towards grassroots football, most importantly on pitches, artificial and otherwise, for youngsters to play then it could be a positive move."
Swansea manager Carlos Carvalhal, who guided Sheffield Wednesday to the 2016 Championship play-off final: "I think they are monuments and we can't sell them in my opinion. If you sell Wembley you can sell Big Ben and Buckingham Palace? We can't sell monuments, it is culture, and you can't sell culture."
Chairman of Matchroom Sports and former Leyton Orient owner Barry Hearn: "Unless there's a very good reason why it shouldn't be sold, frankly the laws of commerce take over. It's he who has most will win. I would be saddened but I would be realistic enough to say it's life in the current system."