Wealdstone shooting: Boy, 13, was 'innocent bystander'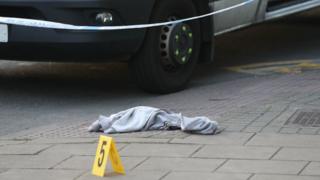 A 13-year-old boy shot in north-west London was an innocent bystander, according to police.
The teenager was one of five people shot in the capital within 24 hours.
He was hit by shotgun pellets as he walked with his parents in Wealdstone High Street on Sunday.
Police believe two others were injured including a 15-year old boy who is in hospital with a head injury. A third victim was hit in the arm, but has not come forward.
The Met described the attack as "callous, reckless and brazen".
Wayne Bent, who was part of a group who helped treat the 13-year-old until an ambulance arrived, said: "There was lots of blood.
"The main area was the back of the head – it was just constantly bleeding."
The teenager was treated in hospital and has now been discharged.
Resident Jonathan Smith said he had "heard gunshots before" in the area.
He said: "I sometimes feel a little bit unsafe living around here. There's quite of lot of youths hanging around."
At the scene – Danny Shaw, Home Affairs correspondent
The only sign of the violence from the day before were spots of blood on the pavement near a branch of Specsavers, where the 13-year-old victim had fled after being hit by a stray shotgun pellet.
Detectives are still investigating the motive for the attack but one line of inquiry is a link to drugs.
Residents told me that dealers openly sell drugs in an alley off the High Road. They also pointed to the absence of facilities for young people – and the closure of Wealdstone police station.
It was shut as part of a Scotland Yard drive to save money and remains boarded up – a symbol, some say, of the lack of police presence in the area.
Officers from the Met's gang crime unit believe the missing man and the 15-year-old were the intended targets of the attack.
A 39-year-old man was arrested on Sunday and has been released under investigation.
Police are looking for two male suspects.
In separate attacks, 17-year-old Rhyhiem Ainsworth Barton was shot dead in Southwark on Friday and a 22-year-old suffered non life-threatening wounds in a shooting in New Cross Road, Lewisham, on Sunday.
Rhyhiem's mother, Pretana Morgan, has called for an end to the violence in London.
"Let my son be the last and be an example to everyone. Just let it stop," she said.
Mayor of London Sadiq Khan said: "This violent crime in London and across our country is simply unacceptable. It cannot be tolerated."