Weakest schools struggle with teacher 'burnout'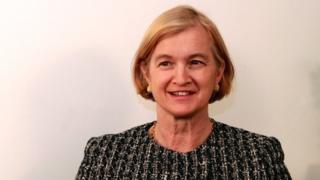 Ofsted is warning of a hard core of persistently underachieving schools in England which struggle to recruit teachers and keep head teachers.
The watchdog's annual report says there are about 100 schools which have not reached "good" status in inspections since 2005.
Ofsted chief Amanda Spielman's report says despite "attention and investment" the schools had not improved.
But heads' leader Geoff Barton said Ofsted could be part of the problem.
"It may be that our high-stakes accountability system is in itself at least partially responsible for trapping schools in a cycle from which it is very difficult to escape," said Mr Barton, leader of the ASCL head teachers' union.
High turnover
When schools were "stigmatised" by bad Ofsted reports, he said recruiting staff and pupils became more difficult and schools could be "trapped in cycles of underperformance".
He said the problem was being exacerbated by a "teacher recruitment and retention crisis" and the "underfunding of schools".
The annual report shows that overall 90% of all primary schools and 79% of secondary schools are rated good or outstanding.
But Ms Spielman has warned of about 500 primary and 200 secondary schools which have been rated as requiring improvement on their previous two inspections.
Among those inspected this year, around 80 primary and 50 secondary schools have been below the level of "good" since 2005.
These struggling schools were most likely to be in areas with a high proportion of poor white pupils, to have a high turnover of staff, and heads and teachers facing "burnout".
Young offenders
Schools can also be caught up in changes from the academy system, being closed and re-opened, with gaps in inspections, or left without any academy sponsor at all.
The annual report shows that only 34% of local authority children's services departments are good or outstanding – but this is an improvement on 26% in the previous report.
The chief inspector has highlighted particular concerns about education standards in young offenders institutions, which she said could be "extremely poor".
"Young people who have committed a crime should be punished, that is what society expects. But the vast majority of juvenile offenders also deserve a second chance. That starts with a good education," says Ms Spielman.
"If through a poor education, we close down other avenues they have for success, we are setting the pathway for a life of crime.
"Without access to a proper, decent learning and training we are passing de facto life sentences on young offenders."
A Department for Education spokeswoman said: "We are targeting the areas that need the most support through our opportunity areas.
"And by investing £280m over the next two years to target resources at the schools most in need to improve school performance and deliver more good school places."