Was Claire's the ultimate accessory for tweens?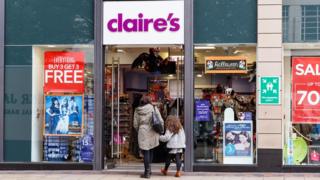 As tween jewellery haven Claire's Accessories reveals it will press ahead with a financial restructure, the customers who once poured their pocket money into its tills have been worrying over its potential loss.
Claire's has assured customers its shops, including 378 in the UK, will remain open for now.
The US company behind it has filed for bankruptcy protection and cash from lenders will be injected to reduce its debt by £1.3bn.
It comes hot on the heels of fellow 90s stalwart Toys R Us, which announced it would close all of its stores after going bust.
For many tweens of the nineties and teens of the noughties, countless Saturdays would be spent shuffling around the purple-infused 10 square metres of your local high street's Claire's.
What drew them in?
Lots of piercings
Having your ears pierced can be a rite of passage and Claire's turned it into big business – claiming to have pierced more than 100 million earlobes worldwide.
But having a piercing at Claire's often has the added bonus of becoming part of the window display.
Propped up on a bar stool and pressed against the glass, teens grimace at the piercing gun while trying to avoid the stares of passing shoppers and fellow customers alike.
Ten minutes and a pair of swollen lobes later and you are ready to go, armed with a bottle of after care lotion and strict instructions not to change earrings too soon – not even for the 24 pack of studs you've just bought.
But if you hadn't quite convinced your parents (or family friend who was old enough to sign the waiver) there was always the magnetic option.
A cut above clip-ons, but surprisingly just as painful, these magnetic wonders gave the (brief) illusion of actual studs without the hole.
Glitter, neon and flower power
Before flower crowns, there were flower crystal hair spinners and butterfly clips; bought in packs of at least ten – of which half were bound to go missing after their first outing.
Rubber and metal bangles sat side-by-side stacked high up to your elbows and elastic tattoo chokers pulled tight.
Meanwhile glitter gels, sprays, mascaras and crèmes ensured every part of you could be as sparkly as your scrunchie.
This – along with a stock of neon tutus and themed accessories for every occasion – has seen those tweens from the early noughties return as university freshers and hen partygoers in the years that followed.
And forget buy one get one free – less is not more in the land of accessories – instead buy "three get three free", or 10 for £10.
More than accessories
Like the unpredictable middle aisle of Aldi, Claire's would occasionally stray from luminous budget jewellery.
From metal micro scooters and 'wheelie' trainers to pots of slime and fluffy-topped pens, these extras were sure to prop up your playground credentials.
Should Claire's be forced to shut up shop its legacy will most certainly live on, if only in the holes of millions of earlobes.