Warren Gatland: Politics stopped players being released for South Africa game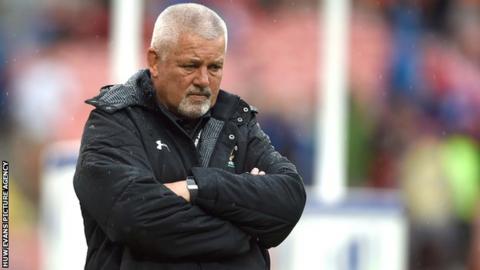 Wales coach Warren Gatland says the decision not to release players for their South Africa game highlights the poor politics of rugby.
No English-based players were released for Wales' match against South Africa by Premiership Rugby Limited.
Under World Rugby rules, clubs are only obliged to release players for games that fall in designated Test windows.
"It's a sad indictment on the politics of the game," said Gatland.
"I just can't understand why they would stop players from joining us a week or two early when the season is finished and they're going to be back with their clubs early.
"I understand and accept completely the views on the other stuff, but this one just doesn't make sense to me."
The three Saturdays which fall within June's international window are the 9th, 16th and 23rd, however Wales' game against the Springboks was scheduled for Saturday, 2 June.
World Rugby rules did not apply for games on the first weekend of June this year, and Premiership Rugby's policy meant Bath lock Luke Charteris, Exeter prop Tomas Francis and Worcester wing Josh Adams were all withdrawn from the Wales squad.
"Everyone else is playing three games – England are playing four – and we finish our tour a week earlier," added Gatland.
"I understand completely what PRL are trying to do in the autumn when we organise a fourth international. They're protecting their own competition.
"Players go back during the Six Nations down weeks and I understand that too."
Adams and Francis have since been called back into the squad for the two Tests in Argentina.
A shambles? Or worthwhile?
The match against South Africa in Washington DC, which Wales won 22-20, had come in for criticism in the build-up with both teams fielding inexperienced sides.
Wales were without most of their British and Irish Lions, while South Africa left top players at home as they prepare for the three-Test series against England.
Former Wales captain Gwyn Jones had called the match a "shambles" that "devalued international rugby".
Gatland responded by describing those criticising the Test as "bitter and twisted" and insisted it was vital for his preparations for the 2019 World Cup in Japan.
"I don't think there was a lot of talk. It's just when one or two people write negative everyone assumes that's the general opinion," Gatland said.
"All we've spoken about is the positives for the younger players.
"Those one or two people to me don't reflect public opinion but they're entitled to their own opinion. For me, the positives hugely outweigh the negatives.
"The conditions were hot and humid; we could experience that in Japan in the World Cup. That's a positive experience."
Onwards to Argentina
Wales now travel to Argentina for Tests in San Juan on 9 June and Santa Fe on 16 June and Gatland admits they will need to improve on their performance against the Springboks.
"It's going to be tough isn't it?" said Gatland. "They look like they're playing with confidence.
"In Super Rugby, they've won for the first time in New Zealand, they've won their last seven games or something like that.
"We spoke about this being a learning experience for the players so we got off to a good start but we're going to have to improve. The cultural difference will be a good experience.
"A lot of guys have had to step up from a leadership point of view. Gareth [Anscombe], Ellis [Jenkins], Cory [Hill], and that's good.
"You want selecting the side to be tough. You want competition and sometimes in the past we haven't had a lot of depth.
"That's been the focus in the last two or three years so we can have players who can step in."